FYI
2023 Prism Prize Eligible Videos: Clips To Help You Escape Winter
Five Music Videos That Will Help You Escape Winter 
Nov 30, 2022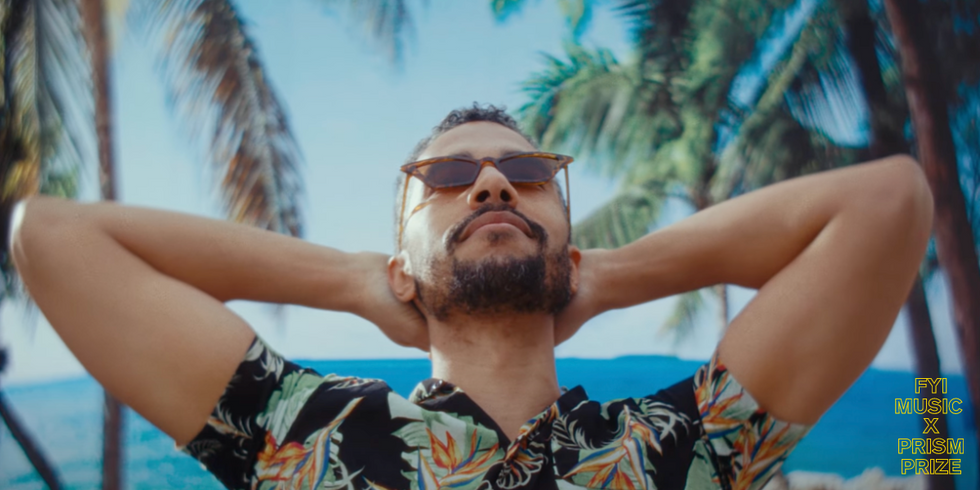 By External Source
Five Music Videos That Will Help You Escape Winter 
---
The winter season is known for its cold chill, lack of sunlight and grey tones. So, we've collected a few 2023 Prism Prize-eligible music videos that will help you escape this dreary season. From bright colours and flowers to a beach and a cabin in the forest, these videos are sure to perk you right up. You might even forget that it's winter! 
Mother Sun - Tangerine Beach  
It's time to head to the beach with Mother Sun in their video for Tangerine Beach. The video serves up some sun, sand and a few cocktails, giving the viewer that vacation feeling. As the video goes on, the man who was enjoying his time on the beach starts to get turned around, becoming lost in paradise. 
Credits: 
Text by, and starring, Nathan Skyers.
Shot, produced, and edited by Josef Perzon.
Abigail Lapell - All Dressed Up 
Head to a park on a lovely sunny day with Abigail Lapell in her music video for All Dressed Up. Follow Abigail as she traverses through the park and explores an old well, a sparkling lake and a calm ravine. This video is sure to bring you back to those leisurely days of summer.
Credits: 
Filmed, directed and edited by Max Conru and X Log Productions
Born Ruffians - Chrysanthemums
This music video is a multicoloured dream. It quickly pulls you in with the brightly coloured flowers and swirling motion -almost as if you're being hypnotised by a sea of stunning hues. If you're in need of some colour during winter then definitely watch this video. 
Credits: 
Directed by John Smith
Mitch DeRosier - Bass guitar
Steve Hamelin - Drums, wah-wah pedal operator
Luke Lalonde - Guitars, vocals
Maddy Wilde - Keys, vocals
R Flex - La La Land (ft. Tafari Anthony) 
It's time to fly up into the clouds with R Flex in their music video for La La Land (ft. Tafari Anthony). This video has gorgeous sunset colours, pretty blue hues and some glitter sprinkled here and there. It will take you away from the cold weather and transport you into a dream-like land in which R Flex is your musical tour guide. 
Credits: 
Director: R. Flex & Roya Del Sol 
Cinematography: Roya Del Sol
Production Design: Tiana Smith
Gaffer/PA: Joshua Rille 
MUA: Caz Fullerton
Hands: Moody Benjamin
Editor: Kourtney Jackson
Busty and the Bass & STS - Everything Comes In Waves 
Come spend some time in a calm forest with the smooth sounds of Busty and the Bass & STS in their music video for Everything Comes In Waves. Accompanied by a catchy melody, this music video is full of good vibes and charming scenery.   
Credits: 
Director: Jean-Luc Oicle, Featuring: Jordan Brown & Mel Pacifico, Engineered & Mixed by Chris Vincent, Filmed at: La Grosse Lanterne, Quebec, Canada, Producer: Alexe Laroche, Assistant Producer: Josiane Dufour, Director of Photography: Jonathan Auger, 1st AC: Christophe Alessi, 2nd AC Issa Karim, Steadicam Operator: Graham Guertin-Santerre, Key Grip: Luis Fidalgo, Set Photographer: Jeremy Dupuis, Art Director: Stevie Smylie, Assistant Art Director: Miles Norton & Émilie Beaumier, Editor: Zoé Guèvremont, Colourist: Steven Mercier, Stylist: Racky Sow, Special Thanks: Martin Bergeron, Atelier du Loisir, Grosse Lanterne, Laurie-Anne Perreault, Télescope Films, Samuel Caron et Alexandre Nour Desjardins, Gabriel Cordeau.