FYI
Rocket Norton's F**K Cancer Concerts Have Now Raised $640K
Celebrated drummer Rocket Norton has raised an additional $300,000-plus with his second annual
Nov 14, 2023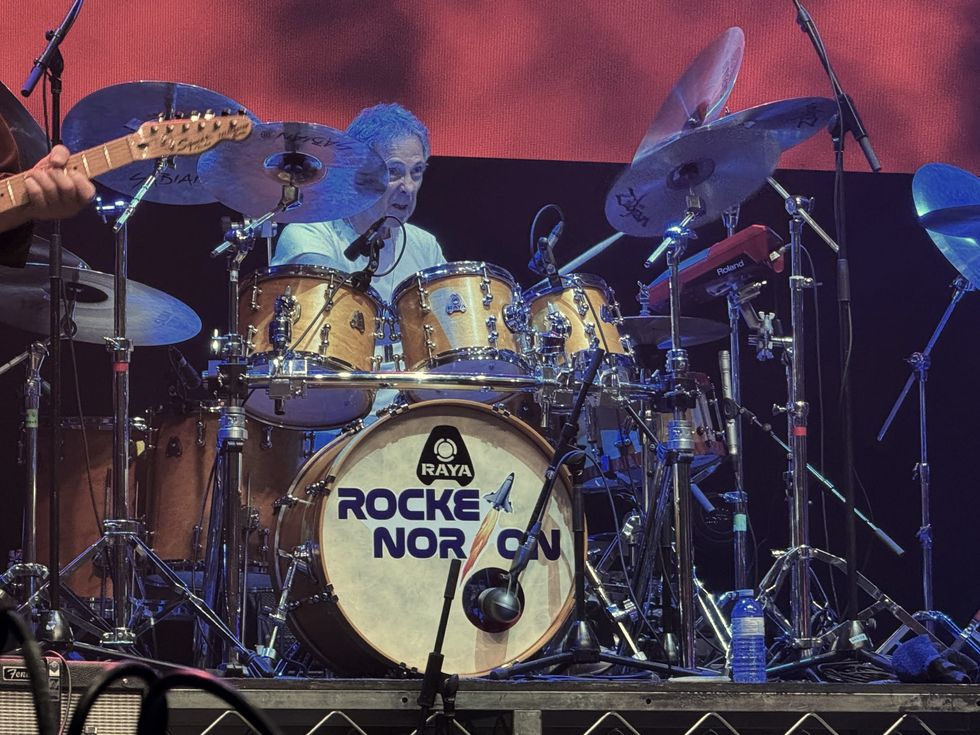 By David Farrell
Celebrated drummer Rocket Norton has raised an additional $300,000-plus with his second annual F**K Cancer concert, this time at the Centre for the Performing Arts in his city of Vancouver.
---
With sponsorship from Wheaton Precious Metals and property developer Beediereal estate paying hard costs for production, lighting, staging and the venue rental, all proceeds go to BC Cancer PROFYLE (Precision Oncology for Young People) program. It's a cause close to his heart because the former drummer in Prism has been battling cancer since he was first diagnosed on Feb. 11, 2021.
Driving home after being given the harsh news, he says it didn't scare him. "I've lived my life day by day since I started playing when I was 13 years old. I'm 73 now. I work out daily, and Rufus Guitar & Drum Shop near where I live in Kitsilano has given me a drum kit and a studio to use. This is all part of my regimen."
He's upbeat and cheery about his life, tenuous as it is, and very dedicated to making a difference for young people with cancer. "When I was in for treatment, the doctors, nurses and volunteers were so kind to me. It gave me the idea to give something back," and he has.
The idea of raising some money for cancer programs started small. "My original thought was to get some musicians together, and we'd play in a club, but word got out, and musicians started calling me saying they wanted in too, so it evolved into the first FF**K Cancer concert last year with 33 musicians and nine of the biggest classic rock acts on the bill. It was fantastic, electric, and we raised just over $344,000" with help from a few people, including local impresario Bill Allman, Bruce Allen and philanthropist Alex Blodgett.
This year's event came about because everyone wanted to do it again and then some, hitting a dollar amount slightly shy of last year's big number, but ticket prices were lower-perhaps reflecting a tighter market for the fans. But what a show they were given. It ran four hours with one intermission and included 46 musicians and 14 acts that included Loverboy, Lee Aaron, Prism, Powder Blues, Chilliwack and Colin James.
Following the euphoria of playing and renewing old friendships, Rocket took a few days off and then had to pay suppliers for the show. He was firm, though; sponsors picked up the hard costs, and every penny earned is to be donated to PROFYLE.
In September, Norton and Prism were among 13 classic '70s and '80s acts inducted at Massey Hall as part of Canada's Walk of Fame singular salute dubbed the Rock of Fame. During its peak era, the band Prism cumulatively sold about 800,000 albums in Canada, with the third album, Armageddon, released in 1979, achieving double platinum status and selling more than 200,000 copies. It earned former band member Bruce Fairbairn the Juno Award in the producer category, with some of the songwriting attributed to Bryan Adams and Jim Vallance, who was credited using the alias Rodney Higgs.
Norton says he has no intention of organizing a 3rd edition of the fundraising concert; however, preliminary discussions are taking place to use the template for the show and expand it to other cities next year.
In its day, Prism had Loverboy and Bryan Adams as opening acts on some shows.