FYI
In Redux: Rebels At the CMBIAs Last Night
Robbie Robertson, Gerry Forbes, Steve Herman, and Mike McCarty are among those inducted into respective Halls of Fame at the 2019 Music and Broadcast Industry Awards gala dinner held Thursday night at the Rebel Entertainment Complex in Toronto.
May 09, 2019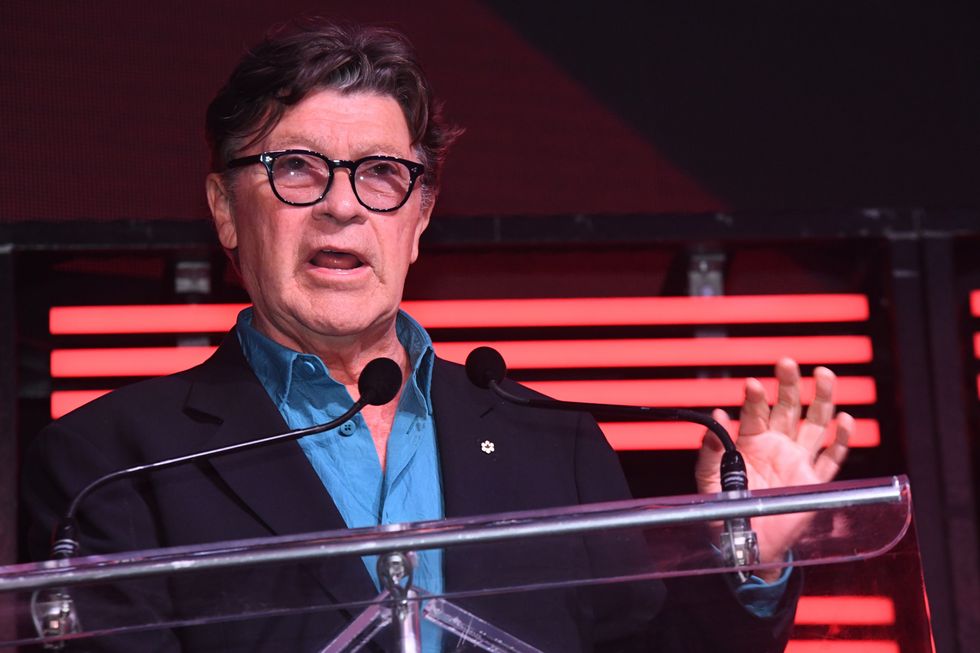 By Nick Krewen
A lifetime of achievement was honoured on many industry fronts at the Rebel Entertainment Complex on Thursday night as almost one dozen individuals received numerous hall of fame accolades for their remarkable careers and contributions.
---
Toplined by Robbie Robertson's Lifetime Achievement Award, those who were inducted into numerous halls of fame included SOCAN Chief Membership and Business Development Officer Michael McCarty; Live Nation Senior Vice-President, Touring - North America's Steve Herman; songwriter and publishing advocate Eddie Schwartz; (now retired) CKOI PD Guy Brouillard; recently retired radio broadcasters Brother Jake Edwards of TSN and Gerry Forbes of CJAY 92; and posthumously, Terri Michael and Leslie Sole; with The Evanov Group's Carmela Laurignano named the coveted Rosalie Award winner; Country 93.3FM Fort McMurray, Alberta's Brad Karp recognized as the Allan Waters Young Broadcaster of the Year; and The Gord Downie & Chanie Wenjack Fund receiving The Allan Slaight Humanitarian Award.
During the three-hour event - perhaps the loudest awards show due to the incessant din of conversationalists that seemed oblivious to the Jessi Cruickshank-hosted ceremony that was unfolding before them - guests tucked away at an Oliver & Bonacini menu featuring an appetizer of field green & chickpea salad, a main course of peppercorn rubbed beef striploin over charred tomato, spinach, and new potato and a dark chocolate & dulce de Leche dessert, and washed it down with wine, Amsterdam beer and the occasional Jim Beam bourbon.
Their musical appetites were filled with performances, ranging from  a rousing version of O Canada! by inaugural The Launch winner Logan Staats to kick off the proceedings, the Indigenous Youth Hand Drum Group;  South African guitar sensation veteran Jonathan Butler (who put a little Marley into his mix), 54.40, who performed Baby Ran and I Go Blind with singer Neil Osborne sporting a "STEVE" t-shirt in honour of "Mr. Herman, who took a chance on us way back in the '80s"; the "McCarty Band" led by Gavin Brown with Esthero, Jelleestone and members of Billy Talent, Three Days Grace and Alexisonfire, and Lawrence Gowan, who serenaded Canadian Songwriter Hall Of Fame inductee Eddie Schwartz with Hit Me With Your Best Shot and When There's Time For Love.
2019 Canadian Music & Broadcast Industry Hall Of Fame Inductee and Lifetime Achievement Award recipient Robbie Robertson said he was "thrilled" to get this award, and commended CMW president and CEO  Neill Dixon for his enterprising ways.
"Every time I think they've run out of awards to give me in Canada, Neill comes up with a new one," he quipped.
Robertson also mentioned that while Lifetime Achievement Awards are usually given out  to those who are thinking about retirement, Robertson said that "this was one of the busiest years of my life" as he talked about having just completed an album "that's some of the best work I believe I've ever done" and disclosed that he's completing a follow-up biography to Testimony and will be involved in the Once Were Brothers: Robbie Robertson and The Band documentary that will be executive produced by Martin Scorsese, Brian Grazer and Ron Howard. 
Acceptance speeches ranged from the gratefully heartfelt (Broadcast Industry Hall of Famer Guy Brouillard urged everyone to "dare to follow your dreams and your gut feelings") to the poignant one by Broadcast Industry Hall of Famer Brother Jake Edwards, who dedicated his award to his father "Blackie," who passed away 10 days after learning his son had won the honour, and mentioned that he and his wife would travel to New Brunswick the next day to pay tribute to his Dad's life.)
And there was the emotional:  the Gord Downie & Chanie Wenjack Fund was presented with The Allan Slaight Humanitarian Spirit Award and a $30K donation. The award recognises the impact of the fund co-founded by the late Tragically Hip singer and the Wenjack family to help fuel reconciliation between indigenous and non-indigenous people.
"We are honoured to present the Allan Slaight Humanitarian Award to Gord Downie," said Gary Slaight. "As Gord personified what my father thinks is the highest virtue - the willingness to make the world a better place...Gord Downie used his celebrity in supporting numerous charities such as cancer research, Lake Ontario Water Keepers, and then the concerts for environmental issues, which were also important to him.
"When Gord was diagnosed with terminal brain cancer, he did something extraordinary. Instead of retreating under the comfortable blanket of family and friends to wait out inevitable defeat, he felt obligated to act and find meaning in his final days."
In mentioning the Tragically Hip's final cross-Canada tour, Slaight added, "Throughout his courageous battle, Gord asked Canadians to focus on an issue of great importance to our country - and this is his true legacy." 
Heartfelt words were also spoken about Terri Michaels, broadcast personality and Leslie Sole, CEO of Rogers Television, inducted into the Broadcast Industry Hall of Fame In Memoriam following their loss due to a tragic car accident last November.
Heaps of praise were also bestowed upon the Evanov Radio Group's Vice-President and Radio Group Manager Carmela Lurignano, the deserving Rosalie Award winner who helped the radio chain eventually established 19 stations across Canada and also founded the world's first terrestrial commercial radio station targeting the LGBTQ community, Proud 103.9 FM.
Whether it's legendary on-air personalities like Gerry Forbes or talent discoverers like Michael McCarty, these newest Hall Of Fame inductees have proved that they're the cream of the crop - and we're lucky to have  - and have had - them in our lives.
Also announced: the list of the 2019 Canadian Music Broadcast Industry Award winners: 
MUSIC DIRECTOR OF THE YEAR MAJOR MARKET
Lisa Grossi – CHUM FM – Toronto                                          
             
MUSIC DIRECTOR OF THE YEAR SECONDARY MARKET
Barry Stewart – Hot Country 103.5/Jewel 105 – Halifax     
 
MUSIC DIRECTOR OF THE YEAR SMALL MARKET
Shilo Bellis – New Country 96.9 – Moncton               
           
ON AIR TALENT OF THE YEAR MAJOR MARKET
Garner Andrews – Sonic 102.9 – Edmonton                          
 
ON AIR TALENT SECONDARY MARKET
Jeff & Rachel – 97.5 Virgin – London                                       
                                                            
PROGRAM DIRECTOR MAJOR MARKET
Sarah Cummings – CHUM FM – Toronto                   
 
PROGRAM DIRECTOR SECONDARY MARKET
(A Tie!)
Brad Gibb – FM96/Fresh –London                                           
Jim McCourtie – 89X/93.9 The River – Windsor                    
 
PROGRAM DIRECTOR SMALL MARKET
Matt Cleveland – Capital FM 106.9 – Fredericton                 
                                   
PROMOTION OF YEAR
Kiss Your Ashby Goodbye – CHUM FM – Toronto              
 
STATION MEDIUM MARKET
96.3 Cruz-FM – Saskatoon                                                          
           
STATION A/C
98.1 CHFI – Toronto                                                                      
 
STATION CHR
The New Hot 899 – Ottawa  
                                                                                                                                
STATION CLASSIC GOLD
Boom 97.3 – Toronto                                                                    
           
STATION COUNTRY
Country 105 – Calgary                                                                 
                                               
STATION MULTICULTURAL
CHIN – Toronto                                                                  
                                                             
STATION NEWS/TALK/SPORTS
680 News – Toronto                                                                     
 
STATION ROCK
Indie 88 – Toronto                                                             
 
STATION SMALL
K-Rock 105.7 – Kingston                                                 
                                               
 
INDUSTRY AWARDS
 
TALENT DEVELOPMENT STORY OF THE YEAR
Loud Luxury
 
BOOKING AGENCY
The Feldman Agency                                                                                           
 
CASINO/SPECIALTY VENUE
Casino Rama Resort, Orillia                                                                               
           
DIGITAL MUSIC STREAMING SERVICE
Spotify                                                                                                          
 
INDEPENDENT DISTRIBUTOR
eOne Music                                                                                                 
 
INDEPENDENT LABEL
Arts and Crafts      
                                                                                                
INDEPENDENT RECORD STORE
Dine Alone Store/Wax on Wheels, Toronto                                                   
 
MUSIC JOURNALIST
Ben Rayner, Toronto Star                                                                                   
 
MAJOR FACILITY (OVER 8000)
Budweiser Stage, Toronto                                                                                  
 
MAJOR FACILITY (UNDER 8000)
Brandt Centre, Regina                                                                                         
 
MANAGEMENT COMPANY
Bruce Allen Management                                                                        
 
MAJOR RETAILER
Sunrise Records                                                                                        
 
MUSIC PUBLISHER
Universal Music Publishing                                                                                
 
MUSIC SCHOOL 
(A tie!)
Fanshawe College – London                                                                              
Metalworks Institute – Mississauga                                                                
 
PERFORMING ARTS CENTRE (over 1500)
The Sony Centre For The Performing Arts, Toronto                                              
 
PERFORMING ARTS CENTRE (under 1500)
Danforth Music Hall, Toronto                                                                            
 
PROMOTER
Live Nation                                                                                                  
 
PUBLICIST
Joanne Setterington, Indoor Recess                                                               
 
RECORDING STUDIO
Revolution Recording, Toronto                                                            
 
MAJOR LABEL
Universal Music