FYI
Music News Digest, Sept. 3, 2020
Marianas Trench (pictured) join the Live From Inside live-stream series, the SOCAN Foundation launches the Black Canadian Music Awards, and Festival (506) continues virtually. Also in the news are Corb Lund, Steven Guilbeault, the TU Jazz Fest, Dylan Menzie, Barenaked Ladies, Columbia Artists Management, Satellite and The Harpoonist, Screamin' Deal, The Trews, and farewell Ian Mitchell and Erick Morillo.
Sep 03, 2020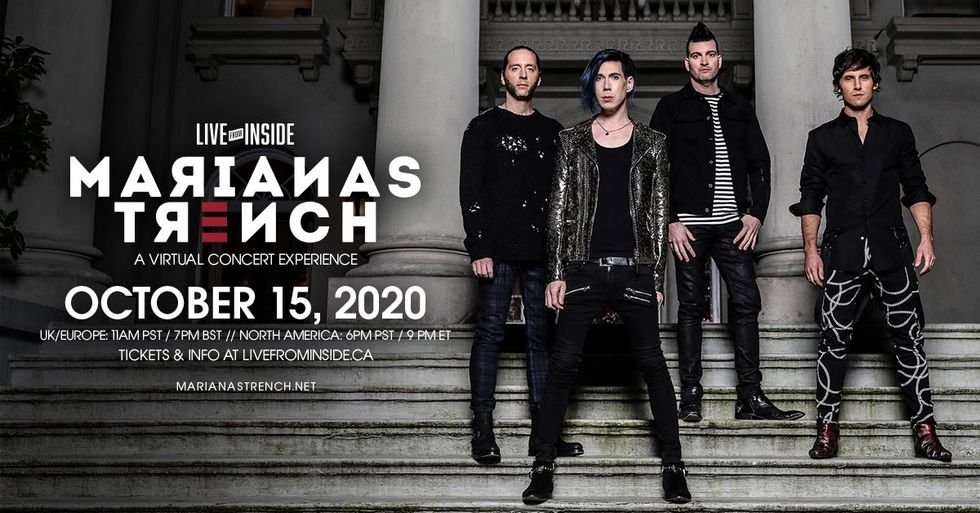 By Kerry Doole
 Vancouver rock band Marianas Trench has announced two hometown virtual performances to be broadcast live from the Commodore Ballroom on Oct. 15 as part of Live Nation's Live From Inside live-stream series. Tix are on sale now here, with a portion of ticket sales benefiting the Unison Benevolent Fund. The concert will showcase material from MT's latest studio album Phantoms plus hits from their previous double platinum and gold-selling albums. The Live from Inside series kicked off on Aug. 17. Other live-streams are coming from Peach Pit (Sept. 17, benefiting Downtown Eastside Women's Centre), and Frazey Ford (Sept. 26 and 27, benefiting Raven Trust). 
---
– The SOCAN Foundation today announced the launch of the Black Canadian Music Awards, in partnership with SiriusXM Canada. The Awards will recognize and celebrate the artistic merit demonstrated by Black music creators (songwriters, composers, producers, etc.) in all genres. The inaugural awards will be presented virtually in 2020, and winners will be selected by a jury and advisory council of prominent Black artists and industry leaders, including DJ Agile as the inaugural Chair of the jury. Five winners will be selected to each receive a $5K award, made possible with the support of SiriusXM Canada.
In a press release, Charlie Wall-Andrews, Executive Director of the SOCAN Foundation, stated that "The Black Canadian Music Awards are part of the SOCAN Foundation's efforts toward advancing equity in the Canadian music industry by collaboratively creating opportunities to celebrate Black music creators. Our ongoing aim is to build inclusive programming as diverse as the communities in which we live, and this new award pushes us even further ahead. Visit socanfoundation.ca/awards to apply for the Black Music Awards. The deadline is Oct. 15.
– A reminder that a virtual Town Hall with Minister of Canadian Heritage, Steven Guilbeault, is set for Sept. 9, 3-4 pm EST. Presented by CIMA, Music Canada, and ADISQ, the event is free with registration here. This will be an opportunity to share your recovery measure ideas with the minister.
– Music•Musique NB has announced the line-up for this year's Festival (506), taking place entirely online, from Oct. 22-25. FAN Passports will go on sale soon, while PRO Passports, which includes access to all the shows plus the conferences and networking sessions, are available here for 25$. Artists performing include Baie, Capital 6, Chloé Breault, Christine Melanson, Dillon Ryan & The Dream Romantic, Émilie Landry, Kylie Fox, Les Fireflies, Les Moontunes, Marian, Matt Boudreau, Pallmer, Rey D, The Backstays, The Firey, The Hypochondriacs, Tortoise the Hare & the Millionaire, and Wolf Castle.
– Following the Top 20 Canadian Country radio success of their Sony Music Entertainment Canada debut single, When You Know You Know, Tim & The Glory Boys return with the wholesome love song Without A Prayer.  The BC group is fronted by Tim Neufeld, who racked up a stack of GMA Canada Covenant Awards and two Doves as the lead singer of Starfield.
– Live Nation Canada is starting a drive-in concert series, presented by the AIR MILES Reward Program, at the Edmonton Inn and Conference Centre site in Edmonton. The series launches on Sept. 12 with two shows (4 pm and 8 pm) by Albertan roots troubadour Corb Lund. Electronic DJs and producers The Funk Hunters perform on Sept. 19. Tix on sale tomorrow (Sept. 4) at www.ticketmaster.ca. Additional concerts and artists will be announced in the coming weeks.
– The Toronto Undergraduate Jazz Festival (TUJF), takes place Sept. 5 -7 at Vista Eatery at Ontario Place. This year's festival features 12 emerging bands, featuring over 50 Ontario-based emerging artists, including the award-winning Anthony D'Allesandro Trio. Following the pandemic protocols, all performances will be safely done with the maximum capacity of 100 people at a time and the option to watch live-streaming on their Facebook page. More info and the full lineup details here.  
– Critically acclaimed PEI-based songsmith Dylan Menzie has launched the Lost in Dreams podcast. The first three episodes are available now and feature comedian Jonathan Torrens (Street Cents, Jonovision, Trailer Park Boys), Emmy and Gemini Award Winner Cheryl Wagner (Fraggle Rock, Mr. Dressup, The Big Comfy Couch), and photographer Patricia Bourque (Behind The Regalia). "The Lost in Dreams podcast is, at its heart, about Canadian artists, their craft, and their process," explains Menzie. Over the course of 10 weekly episodes, he will sit down with Canadian filmmakers, musicians and songwriters, actors and comedians, visual artists and more to ask about their dreams and the effect they've had on their work and lives." Earlier this year, Menzie released his sophomore LP/podcast namesake, Lost In Dreams.
– Barenaked Ladies has announced a pay-per-view live-stream event featuring the multi-platinum band's 2015 Red Rocks performance to take place on Sept. 12 at 7 pm EST. Recorded during the Ladies' Last Summer on Earth tour, at the famed Colorado amphitheatre, the live-stream also features a new exclusive band. The show's opening will be shown on the band's Facebook and YouTube. From there, fans can purchase a ticket for the rest of the show here.
– Montreal venue The Diving Bell Social Club is reopening on Sept. 12 after a six-month closure. Aside from standard social distancing and mask-wearing measures, the small music venue, located on the third floor of the Barbossa, is implementing other strict infection prevention measures and capacity limits. Source: BizBash 
–  Columbia Artists Management Inc., one of the leading agencies representing classical music performers, closed its doors this week. A statement said the US company had "endured a prolonged pandemic environment." The agency, founded in 1930, has represented many of the leading conductors, among them Herbert von Karajan, Leonard Bernstein, James Levine, Eugene Ormandy, Antal Dorati and Otto Klemperer. Its pianists included Vladimir Horowitz and Van Cliburn. and its singer roster had Leontyne Price, Renata Tebaldi, Elisabeth Schwarzkopf, Risë Stevens, Marian Anderson, and Jussi Björling. Source: AP
– Tomorrow (Sept. 4), Satellite and The Harpoonist, the new project from Shawn Hall (The Harpoonist), releases its debut EP, Satellite Man. Here is their version of Neil Young's Only Love Can Break Your Heart.
– Last month, Ontario indie rock band Screamin' Deal released its fourth album, The August Incident!, digitally on Apple Music, Google Play, Spotify, SoundCloud and Bandcamp. Founded in 2017, the group cites such influences as XTC, and Teenage Fanclub. Check it out here.
– The E. A. Rawlinson Centre in Prince Albert, Sask, is asking local musicians to pitch in for a joint jam session/music video set to a song by a hit Canadian rock band. The centre will be accepting submissions until Oct. 13 of solo instrumental or vocal performances of Tired of Waiting by The Trews, who performed as part of a four-hour show at the centre last year. The idea is for local musicians to record themselves performing a part of the song and have it mixed and combined into a music video produced by the centre's staff. The video is set to debut Nov. 10. A submission form is available here  Source: PA Herald
Obits
Ian Mitchell, a one-time member of Bay City Rollers, has died at age 62, of cancer..
Mitchell had an extremely short stint with Bay City Rollers. After the original member and bassist Alan Longmuir left the band in 1976, Mitchell was brought in. As an Irishman, he became the first non-Scottish member of Bay City Rollers. Just 17 when he joined the group, he quit after spending just seven months with the group.
He appeared on the band's 1976 album Dedication, singing the lead vocal on the title track. which spawned a hit with a cover of Dusty Springfield's I Only Want To Be With You, which peaked at No. 12 on the Billboard Hot 100.
After the Bay City Rollers, Mitchell went on to form the band Rosetta Stone. Even though the group secured television appearances in the UK, and enjoyed successful tours of Japan and Thailand, it failed to develop a strong fan base. Rosetta Stone its debut album, Rock Pictures, in 1978. Mitchell would depart the group the following year.
Mitchell later moved to California and became a computer programmer and motivational speaker. Sources: UCR, Noise11
Erick Morillo, the producer and DJ best known for the 1993 hit I Like to Move It, was found dead on Sept. 1, age 49. No cause of death has been reported.
Morillo began making music in the early '90s under the name Reel 2 Real. In 1993, he collaborated with Trinidadian vocalist the Mad Stuntman for his hit song I Like to Move It. The track appeared on 1994's Move It! and regained popularity when it was featured heavily in the 2005 DreamWorks animated film Madagascar.
He made just one more album as Reel 2 Real (1996's Are You Ready for Some More?) before launching his own label, Subliminal Records, in 1997. He released numerous singles and remixes, as well as his 2004 full-length My World, on Subliminal.
Morillo was arrested and charged with sexual battery of a woman in Miami Beach last month. He was reportedly scheduled for a court hearing tomorrow (Sept. 4) Source: Pitchfork