FYI
Music News Digest, May 5, 2022
Felix Cartal (pictured) heads the list of INDIE Awards nominees, Drake, The Weeknd, and the Biebs all ink new deals, and Juno events lineups are announced. Also in the news are the Vancouver International Jazz Festival, NXNE, Sled Island, winery concerts, Mission Folk fest, Sam's Place, OMIF, Music NL, Popguru, Venus Fest, NSMW, Celine Dion, Avril Lavigne, Housewife, Tegan and Sara, David Bray, Early Spirit, The Tea Party, Danny Marks, Lenka Lichtenberg, The Flashing Lights, Richard Beland, Corb Lund, and farewell Walter Rossi, Billy Gaff, Naomi Judd, and Ric Parnell.
May 04, 2022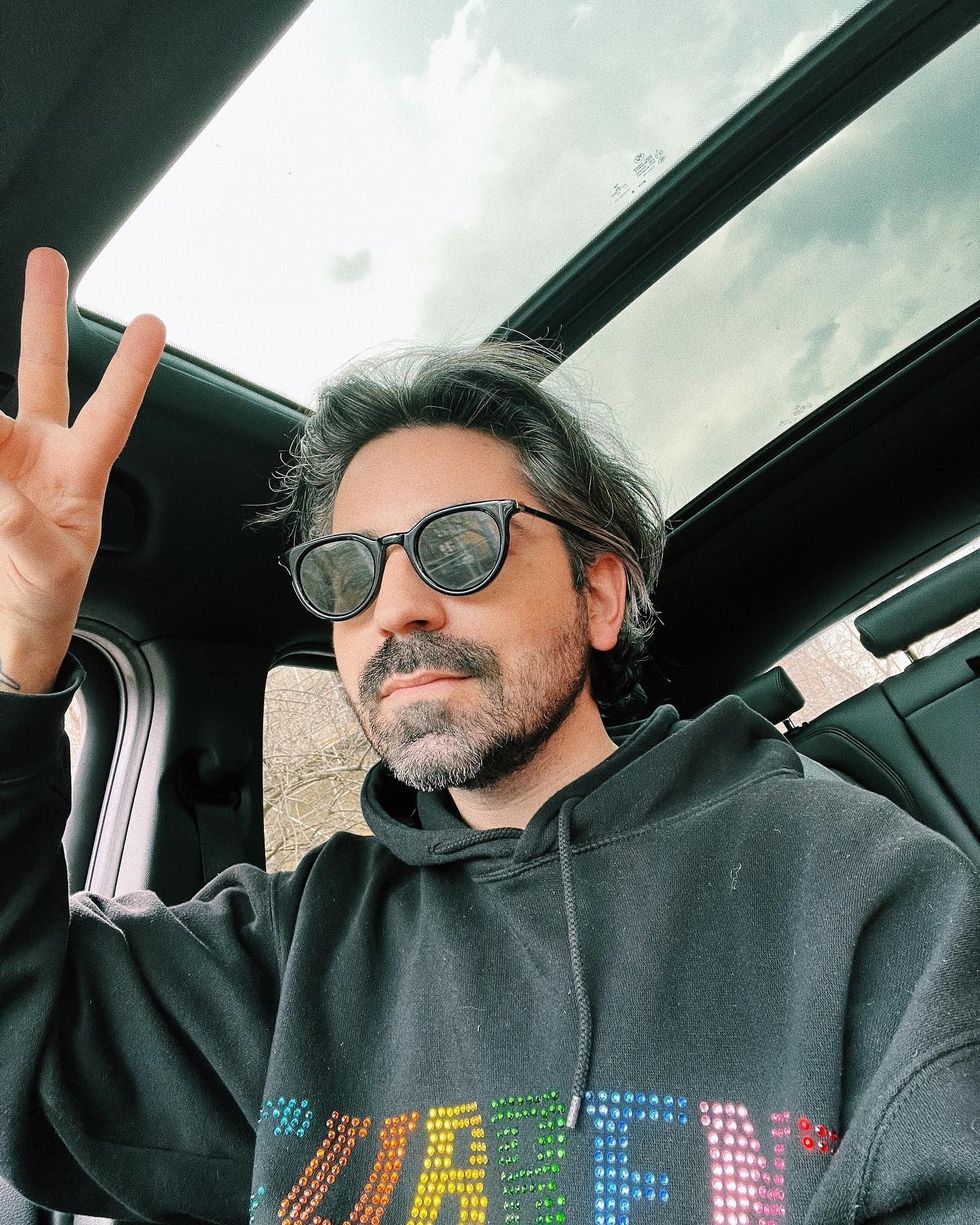 By Kerry Doole
Awards news
---
Canadian Music Week has announced the nominees for the 2022 INDIES – the 21st annual Independent Music Awards – presented by Jim Beam. Felix Cartal leads with four nominations, followed by Snotty Nose Rez Kids and Fake Shark with three nods each. The INDIE Awards take place live on June 11 at the  El Mocambo in Toronto. Tickets here. A full nominees list here.
– Presented by SOCAN and FACTOR, in association with Music Publishers Canada, the Juno Songwriters Circle is always a Juno Week highlight. This year's event takes place at Massey Hall in Toronto on May 11, and, hosted by CBC's Tom Power, it sports a potent lineup comprising Charlotte Day Wilson, Serena Ryder, TOBi, The Weather Station, Mustafa, Metric, and Devon Portielje and Conner Molander from Half Moon Run. Tix here.
– As part of CBC Music Junofest, a Jazz Showcase featuring 2022 nominees will be held at Toronto Club Supermarket tomorrow (May 6), from 8 pm. Performing will be Amanda Tosoff, Avataar, Caity Gyorgy, Elizabeth Shepherd & Michael Occhipinti (ES:MO) and Jesse Ryan. Bargain-priced tix can be purchased here in advance, or with cash at the door. Proceeds to MusiCounts.
Festivals
– Coastal Jazz & Blues Society has announced Lucinda Williams, Jazz at Pyatt Hall and the Performance Works Series as part of the 37th annual 2022 TD Vancouver International Jazz Festival. Tix for all shows here. Grammy-winner Williams plays the Queen Elizabeth Theatre on July 2. Jazz at Pyatt Hall comprises eight performances, including the Brad Turner Quintet featuring Mike Murley, Peggy Lee Band, and Cory Weeds Little Big Band, and the Performance Works Series features nine ticketed 7:30 pm performances at the venue, including Adria Kain and Janette King, PIQSIQ, Kee Avil, Julian Lage Trio, Samara Joy, Sam Tudor, and Kandle.
– The full lineup for the Hillside Festival in Guelph can now be viewed here. 
– The venerable NXNE (North By Northeast) fest returns to Toronto June 14-19 at bargain prices. Co-founder and fest head Michael Hollett posted this on FB: "Passes on sale now, only 20 bucks for entire NXNE, cheaper than when we launched in 1995 ($29 then). After the last two crap years, we don't want any financial barriers as live music relaunches. That's why we made it free to apply and, cheaper than the cost of single admission to many shows to attend the complete Festival." Expect stress on new artists. Details and tix at NXNE.com.
– The full lineup for Calgary's annual Sled Island Music & Arts Festival., running June 22-26. The over 200 acts involved include Built to Spill, Low, Chad VanGaalen, La Luz, L.A. Witch, Backxwash, Julie Doiron, Mares of Thrace, Worse, Necking, Motherhood, Wine Lips, Motorists, Janette King, Marlaena Moore, Samantha Savage Smith, Hélène Barbier and the 
previously announced Zoon, Princess Nokia, Backxwash, Alex Cameron, SASAMI, OMBIIGIZI, Pantayo, Lavender Country, Ghostkeeper, and more. The 2022 edition of Sled Island is guest curated by Los Angeles experimentalist Sudan Archives. Tixhere 
– Jackson-Triggs winery in Ontario's Niagara wine country, has announced a return to summer concerts. It launches June 24 and 25 with Sam Roberts Band and Monowhales, with subsequent acts including Common Deer, Rural Alberta Advantage, Bahamas, Dan Mangan, Dwayne Gretzky, and Chantal Kreviazuk, who closes the series on Aug. 13. More info here.
– Another Niagara region winery presenting major Canadian talent is Redstone Winery in Beamsville. It's summer concert series will include Serena Ryder (June 23), Matt Mays (July 7), Pretzel Logic, and more names TBA. The series, running June-Sept., features two intimate shows on the patio and four larger shows on the lawn. Tix are now on sale here
– The 2022 Mission Folk Music Festival, set for July 22 to 24 at Fraser River Heritage Park, has named a strong international and Canadian lineup. The list includes Puuluup, Golosa La Orquesta, Le Winston Band, Shred Kelly, William Prince, Kanatal, Clerel, Robert Sarazin Blake, Amanda Rheaume, Graham Lindsay, Quote the Raven, Ronnie Dean Harris, Good Medicine Songs, the Crescent Sky, Strongbow and Wry. Info and tickets here. 
Industry news
– This year's CIMA & MusicOntario showcase at Folk Alliance in Kansas City takes place at The Liberty Room (Westin Crown Center) on May 19. The showcase kicks off at 4:30 pm and features the following artists: Bassett, Villages, Raine Hamilton String Trio, Amanda Rheaume, and Barbra Lica. Conference schedule and registration info here.
– Produced by the Ontario Music Investment Fund (OMIF), the Global Market Development for Music Managers provides eligible music management companies with direct grants to participate in domestic and international activities, including market event attendance and targeted business travel activities that support the market development strategy. The deadline for eligible applicants is June 16. Apply here via the Ontario Creates Online Application Portal.
– In recent years, via venues such as The Hayloft, the Prince Edward County region (about three hours east of Toronto) has offered an increasing number of live music options. In another big boost, Sam's Place, an intimate venue with a capacity of 100, has just opened in PEC. It is the creation of Sam Grosso, much-loved on the Toronto music scene for his clubs The Cadillac Lounge and Graffiti's (he also co-owned The El Mocambo for a spell). Grosso has plenty of connections to help lure artists there, and he knows how to look after audiences, so we expect big things here. Upcoming shows include Tia Brazda on June 18 (tix here) and LMT Connection (June 11). Congrats Sam!
– MusicNL is again partnering with Landfall Trust of Brigus and Genoa Design International to give one MusicNL member the opportunity to spend two full weeks this summer (August 6-19) at the Kent Cottage in Brigus, as a songwriting retreat or home for another creative project. Apply here.
– Set for the Capitol 33 Theatre at Delhi, ON, on May 14 (at 8 pm), Rock 'n Roots is a concert fundraiser, with proceeds going to Canadian Red Cross relief efforts in Ukraine. Hosted by J.R. Digs, it is headlined by Tom Wilson, and also features performing artists from Norfolk County. Tix are now on sale here.
– Fully-integrated Toronto music company Popguru Sound & Vision kicks off its latest livestream concert series (The Popguru Revue: Unplugged) on May 7, at 9 pm EST, with Juno-nominated Toronto band, The Wilderness of Manitoba. The free online concert will be streamed from the Popguru Sound & Vision YouTube channel here. Ghost Caravan is featured on May 14.
Venus Fest has announced the return of its summer mentorship program open to developing music industry professionals as well as artists. This year's iteration will include eight mentor/mentee pairings, as well as three workshops that will also be open to the public. Applications by Ontario-based individuals are open until May 15 here. Notable artist and industry mentors include Bronwyn Ford (Fat Possum), Jamelia Campbell, Kaia Kater, Meg Remy, Rae Spoon, ShoShona Kish, and Stefanie Purificati (APA).
– Nova Scotia Music Week (NSMW) celebrates its 25th anniversary in Sydney, Cape Breton, Nov. 3 - 6. Music Nova Scotia is pleased to announce that NSMW Festival wristbands are now on sale. A limited number of wristbands are available at early bird pricing. In the next six months, MNS  will name almost 150 acts. Check the first 50 acts who will be showcasing in Sydney here
Artist news
– Drake has signed a Universal Music deal described as 'LeBron-sized.' Sources said the deal could be in the vicinity of $515M (Can). UMG's chairman and CEO Lucian Grainge confirmed the news during the label's Q1 earnings call, revealing that the 35-year-old rapper's multi-faceted deal includes recordings, publishing, merchandise, and visual media projects
– Celebrity Access recently reported that Universal Music Group (UMG) has also agreed to a long-term partnership with The Weeknd. He is one of the most successful artists of the streaming era and holds the record for the longest-charting song in the US, with Blinding Lights achieving an unprecedented 90 weeks on the Billboard Hot 100 chart. The newly expanded partnership will see Universal Music Publishing Group (UMPG) administer all future works and songwriting catalogue in a new long-term deal upon the expiration of his existing commitment with Kobalt. UMG's Republic Records has been The Weeknd's home and label partner since 2012 and will remain so for any future musical releases. In addition, the new agreement also covers future audiovisual projects in collaboration with Republic Records and UMG.
In a statement,Sir Lucian Grainge said: "Over the past decade, we have been honoured to work so closely with Abel, who has quickly become one of music's most creative and important artists—a once-in-a-generation talent. I am delighted that we are now able to expand this special relationship, welcome this world-class songwriter to UMPG, and evolve this creative partnership to new and exciting levels."
– The details of Justin Bieber's new deal with Universal Music Group have been confirmed by Variety.  Bieber's recorded music will be released via a new venture, Def Jam/Universal, with duties divided among Def Jam and Republic Records staff. According to Billboard, longtime Bieber managers Scooter Braun and Allison Kaye of SB Projects will lead creative on the project, which recently launched with the release of a new song, Honest. 
– Celine Dion has been forced to postpone her Courage World Tour because of "severe and persistent muscle spasms." Dion had completed 52 dates on this tour before the pandemic's onset in March 2020 and was scheduled to resume on May 25, but has now been postponed until Feb. 24, 2023.  Source: CP
– Avril Lavigne has had to postpone a handful of dates on her Canadian Bite Me tour after a positive Covid-19 case "within the tour," as well as "consequent exposures." Dates affected this week were Laval, QC, Moncton, NB and Halifax, NS. Check her website for details on the rescheduled dates. Last week, Lavigne delighted Olivia Rodrigo fans with a surprise guest appearance at the US star's Toronto show. Before Lavigne hopped up on stage, she was introduced by Rodrigo as her role model. 
– Young Toronto folk-pop duo Moscow Apartment earned plenty of attention under that name, but, for obvious reasons, singer/songwriters Brighid Fry and Pascale Padilla have decided to move ahead with a new moniker, Housewife. The pair are working on new music and recently announced a signing with the Mom+Pop Music label.
– Another Canadian pop-rock duo recently signed to Mom+Pop Music is Tegan and Sara, and they have just released their first single on the label, Fucking Up What Matters. It will be included on an upcoming 10th album.
– Toronto-based artist, songwriter and producer David Bray has just released a new album, Land of Extremes. It is the final instalment of an acclaimed trilogy, preceded by 2016's Night Rains and 2018's Crowded Isolation. Bray's eclectic material encompasses contemporary R&B, soul, rock, and folk. Land of Extremes has multi-Juno-winning and platinum-selling producer/composer Chris Birkett (Steve Earle, Sinead O'Connor) on board as associate producer and engineer. Here is the new single.
–  Canadian Celtic folk-rock quartet Early Spirit is back with its second studio album, The Hollow Tree, officially released on May 6 at the Rogue Folk Club in Vancouver. Tickets are available here. The group is led by former Spirit Of The West member Jay Knutson (vocals and guitar) and Gabriel Dubreuil (fiddle), the two songwriters featured on the material. Guests include Geoffrey Kelly (SOTW) and Michelle Campagne (Hart-Rouge). Recommended.
– Multi-platinum-selling veteran rock outfit The Tea Party has announced a return to Canadian stages with its first tour in almost three years. Launching in Waterloo, ON, on June 17, the 19-date trek wraps in Kelowna, BC, on Aug. 6. Here's the group's latest single, off the Sunshower EP.
– Veteran Toronto musician and ace Jazz FM radio host Danny Marks has just released a new single, the fittingly entitled Man on the Radio. In a press release, he states that "Radio has come up big to reach people at home and heart in trying times, an intimate connection that reaches around the globe. The song comes from this place." Look for a new Marks album, Lifeline, this summer.
– Adventurous Toronto singer/songwriter Lenka Lichtenberg is earning rave advance reviews internationally for her Thieves of Dreams: Songs of Theresienstadt's Secret Poetess album, one that sets to music poems of Lichtenberg's own family matriarch, written while she and her daughter (Lenka's mother) were both imprisoned in the notorious Theresienstadt concentration camp during WWII. The international release comes on May 8, the anniversary of the liberation of the concentration camp and, symbolically, on Mother's Day. An album release that afternoon (2.30 pm), co-presented by The Ashkenaz Festival, is set for Toronto's Paradise Theatre. Tix here.
– Without ever achieving significant commercial success, '90s East Coast indie rockers The Flashing Lights earned peer respect and loyal fans. That has just been reaffirmed by word that a first-ever vinyl pressing of its 1999 album Where The Change Is sold out its run of 500 copes in a day. Of note: It came out on murderecords, the label run by peers and pals Sloan.
– The Upper Canada Choristers, Cantemos Latin ensemble and conductor Laurie Evan Fraser present a spring concert, The French Connection, May 13 at 7:30 pm at Grace Church on-the-Hill, 300 Lonsdale Road, Toronto. The performance will also stream live online. The concert will include a chamber orchestra and feature Requiem in D minor, Op. 48 by Gabriel Fauré, along with other works in French, Portuguese and Latin. Baritone Bradley Christensen returns to the choir as a featured soloist. The concert begins with Prayer for Ukraine (1885) by Ukrainian composer Mikola Lysenko, performed here as a prayer for peace. Tix must be purchased in advance here. The concert will also stream live via Facebook and YouTube for free, though donations are welcomed.
– Toronto folk/pop singer/songwriter Melanie Peterson launches Somebody's Somebody, the first single and video release from her upcoming new Mitch Girio-produced EP, with a full band live concert at The Dakota Tavern in Toronto tonight (May 5). Her A-list band comprises Peter Collins, Peter Lambert, and Frank Koren. Tix here.
– Liss Gallery in Toronto presents a world premiere one-man show featuring the works of acclaimed Canadian concert and portrait photographer Richard Beland. The show runs May 7-31 and features shots of U2, David Bowie, Lady Gaga, Kiss, Dolly Parton, The Tragically Hip, and The Rolling Stones, among many more. Beland's photos have appeared in Rolling Stone, SPIN, Mojo, Kerrang, People and Maclean's magazines. More info here.
– Award-winning Albertan roots troubadour Corb Lund is now basking in rave reviews for his just-released album, Songs My Friends Wrote, one featuring fresh versions of tunes by peers like Fred Eaglesmith, Mike Plume, Tom Russell, and Ian Tyson. Lund has been making his way across Canada on a completely sold-out tour of small-ish clubs. A full list of remaining dates can be found here. The tour continues into the US in June and through the summer.
RIP
Rossignuoli (Walter) Rossi, a Montreal-based guitarist and recording artist, died on April 29, age 74, from lung cancer.
As a guitarist, he played for Wilson Pickett and the Buddy Miles Express in the 1960s. With his own bands, Rossi played with Influence and Luke & The Apostles from the 1960s to 1970s, and then from 1972. While with Charlee, he was asked in 1973 to play lead guitar for David Bowie and take over Mick Ronson's spot. Due to his father's illness, Rossi declined the request to play with Bowie during the Ziggy Stardust tour.
Throughout the '70s, Walter Rossi worked as a session player for Boule Noire, Michel Pagliaro, Nanette Workman, and more.
As a recording artist, Rossi debuted with his self-titled album in 1976, followed by Six Strings, Nine Lives in 1978 and Diamonds For the Kid in 1980.
During this time period, Rossi was a nominee for the Most Promising Male Vocalist of the Year category at the Juno Awards of 1978. He later won this category at the 1980 Junos. 
He was nominated for Rock Album of the Year with Six Strings, Nine Lives at the 1979 Félix Awards. After two additional Felix Award nominations in the 1980s, he released One Foot InHeaven, One Foot In Hell in 1984.  He then worked as a music producer in North America before publishing Secret Sins in 2005. Additional Félix Awards nominations for Rossi were Producer of the Year in 1983 and Arranger of the Year in 1984.
In an eloquent FB tribute, veteran music journalist Martin Melhuish wrote that "Walter Rossi, who sadly has left us, never talked much. His guitar ably communicated whatever mood and emotion its master was experiencing in the moment...  I'll remind people that at a time in his career when an opportunity arose that for most artists would have been unthinkable to turn down – he had been offered the chance to play guitar in David Bowie's band – he chose to remain at home to be with his ailing father.
"When his dad passed away, once again his guitar spoke for him as part of a remarkably poignant instrumental Walter titled R.I.P.D.A.D. that captured his emotional state at the time so well. I am reminded of when I had the chance to see its impact on a large audience of people in Nashville. When working on the documentary film Wired for Sound: A Guitar Odyssey, on the occasion of Gibson Guitar's 100th anniversary, which featured some of the top guitarists in the world, something special was needed over the closing credits and I immediately thought of Walter and this instrumental piece. We did a big screen premiere of the film during a NAMM Convention in 1997 at the Nashville Arena. At the end of the film, and as the credits began to roll, people got up to leave, but as the first notes of R.I.P.D.A.D. resounded through that cavernous venue, I watched as many people were stopped in their tracks and dropped back in their seats to hear the rest of the song, which now remains and will for many of us reflect the sadness we feel at the departure of a truly unique artist and human being."
Sources: Wikipedia, Martin Melhuish
International
– Billy Gaff, the former manager of Rod Stewart, Cream, The Clash, and more, died on April 25. His age and the cause of death have not been reported.
CelebrityAccess stated it had received multiple reports of Gaff's death but could not confirm his death independently. A death notice was subsequently posted here.
Born and raised on a military base near Curragh, Ireland, Gaff attended Woolwich Polytechnic College, where he studied economics. While attending college, Gaff became involved in a theatre group on campus, where he met manager Robert Stigwood and landed a gig as the road manager for Cream for several months before the band dissolved.
After a stint in the Merchant Marine, Gaff returned to music management, taking on The Faces, which featured Rod Stewart and Ronnie Wood.
In 1975, Gaff launched Riva Records, which provided a platform for Stewart's solo material, including many of his early hits such as Atlantic Crossing.  He has production credits for Stewart's Tonight He's Yours (1981) and Live at the Los Angeles Forum (1981).
During the 1980s, he also managed Christopher Hamill, who performs as Limahl and who scored a major international hit in 1984 with The NeverEnding Story, used in the film of the same name.
In 1986, Gaff became primary shareholder in the Marquee club in London and invested in films, including the award-winning My Left Foot,  which starred a young Daniel Day-Lewis. Sources: Celebrity Access, IMDB
– Naomi Judd, the Kentucky-born singer of the Grammy-winning duo The Judds and mother of Wynonna and Ashley Judd,  died on April 30, at 76.
The daughters announced her death last Saturday in a statement provided to The Associated Press. "Today, we sisters experienced a tragedy. We lost our beautiful mother to the disease of mental illness," the statement said. "We are shattered. We are navigating profound grief and know that as we loved her, she was loved by her public. We are in unknown territory."
Just one day later, Wynonna and Ashley held onto each other during Sunday's Country Music Hall of Fame ceremony at which The Judds were honoured with a medallion and the unveiling of The Judds' plaque.
CEO of the Country Music Hall of Fame and Museum, Kyle Young, said in a statement before the event that the Judd family requested the ceremony to carry on in light of Naomi's passing. "We are shocked and saddened to learn of the death of Naomi Judd, who enters the Country Music Hall of Fame tomorrow as a member of mother-daughter duo The Judds…Naomi overcame incredible adversity on her way to a significant place in music history. Her triumphant life story overshadows today's tragic news. Her family has asked that we continue with The Judds' official Hall of Fame induction on Sunday. We will do so with heavy hearts and weighted minds. Naomi and daughter Wynonna's music, will endure," Young said..
The Judds had just announced an arena tour to begin in the fall, their first tour together in over a decade. They also made a return to awards shows when they performed at the CMT Music Awards last month.
Hailing from the Appalachian foothills of Ashland, Ky., mother and daughter duo, The Judds, were first discovered by RCA label head Joe Galante in 1983 after landing a spot on WSM-TV's TheRalph Emery Show.
They made their chart debut by the end of the year with Had A Dream (For The Heart), and the two were on their way to becoming one of the best-selling duos of all time. For the rest of the 1980s, each single from The Judds released by RCA went to the Billboard​ ​Top 10, with 14 hits going all the way to number one. The Judds swept the CMA's Vocal Group/Duo category from 1985 to 1991 and garnered six Grammy Awards.

The Judds embarked on their 'Farewell Tour' in 1991 after Naomi's diagnosis of Hepatitis C forced her to retire from the road. Naomi focused on her health, beating the disease, and writing several New York Times best-selling books. The duo reunited briefly in the 2000s and again to honor Kenny Rogers in the fall of 2017. They were set to regroup this year for 'The Final Tour' to play a number of concerts in North America.
Judd recently promoted her new memoir River of Time: My Descent Into Depression and How I Emerged With Hope. 
Read more here, here, and here. Sources: Variety, AP, LA Times, Washington Post
– Ric Parnell, the British rock drummer best known for his role as Mick Shrimpton in the mockumentary This Is Spinal Tap, died on May 1, age 70. No cause of death was given. He later toured with the band, as well played drums on hits such as Toni Basil's "Mickey," has died. He was 70.
Actor and comedian Harry Shearer, who played Spinal Tap bass player Derek Smalls, announced the news on Sunday, tweeting: "Ric Parnell, our drummer in This Is Spinal Tap, passed away today. No one ever rocked harder."
Parnell had a lengthy resume, including membership in  British prog-rock band Atomic Rooster and Italian rock band the Tritons. As a session drummer, he played on such hits as Toni Basil's Mickey.
Parnell was a respected session drummer and was a member of British prog-rock band Atomic Rooster and Italian rock band the Tritons.
Born in London in 1951, Parnell was the son of English jazz drummer and musical director Jack Parnell, bandleader on The Muppet Show throughout its entire five season television run from 1976 on. Parnell, his father and two brothers were all drummers.
Ric Parnell joined Atomic Rooster in 1970, replacing Carl Palmer, who had left to join Emerson, Lake and Palmer. He played on two albums before leaving in 1974, later joining the Anglo-Italian rock groups Tritons and Nova.
For much of the late '70s and early '80s, Parnell was a session drummer and played on Michael Des Barres' 1980 album I'm Only Human and Toni Basil's 1981 album Word of Mouth. He worked on the 1985 album 3 Ships by Yes' Jon Anderson and collaborated with singer-songwriter Deniz Tek (Radio Birdman) regularly throughout the rest of his life
In 1984, Parnell scored his first film role in This Is Spinal Tap, playing Mick Shrimpton, the doomed drummer in a fictional rock band Spinal Tap. After This Is Spinal Tap, the band would go on to conduct a real-world tour with Parnell on drums. Parnell featured on the 1984 Spinal Tap album coincided with the mockumentary and later played on their 1992 album Break Like the Wind.
Later in life, Parnell lived in Montana, where he hosted a radio show titled Spontaneous Combustion. Sources: Hollywood Reporter, YouTube, Pitchfork