FYI
Music News Digest, March 1, 2021
Nice Horse (pictured) were big winners at the Country Music Alberta Awards, The Northern Power Summit goes global, and a boost for female Canadian producers. Also in the news are Justin Bieber, Indie Week, Matt Mays, Winnipeg Crankie Festival,  Le Ren, Joey Moi, Marc LaFrance, Marie Davidson & L'Œil Nu, Locals Only Sound, the Orbit Room, JUST COSTA, The East Pointers, and Angel Baribeau.
Mar 01, 2021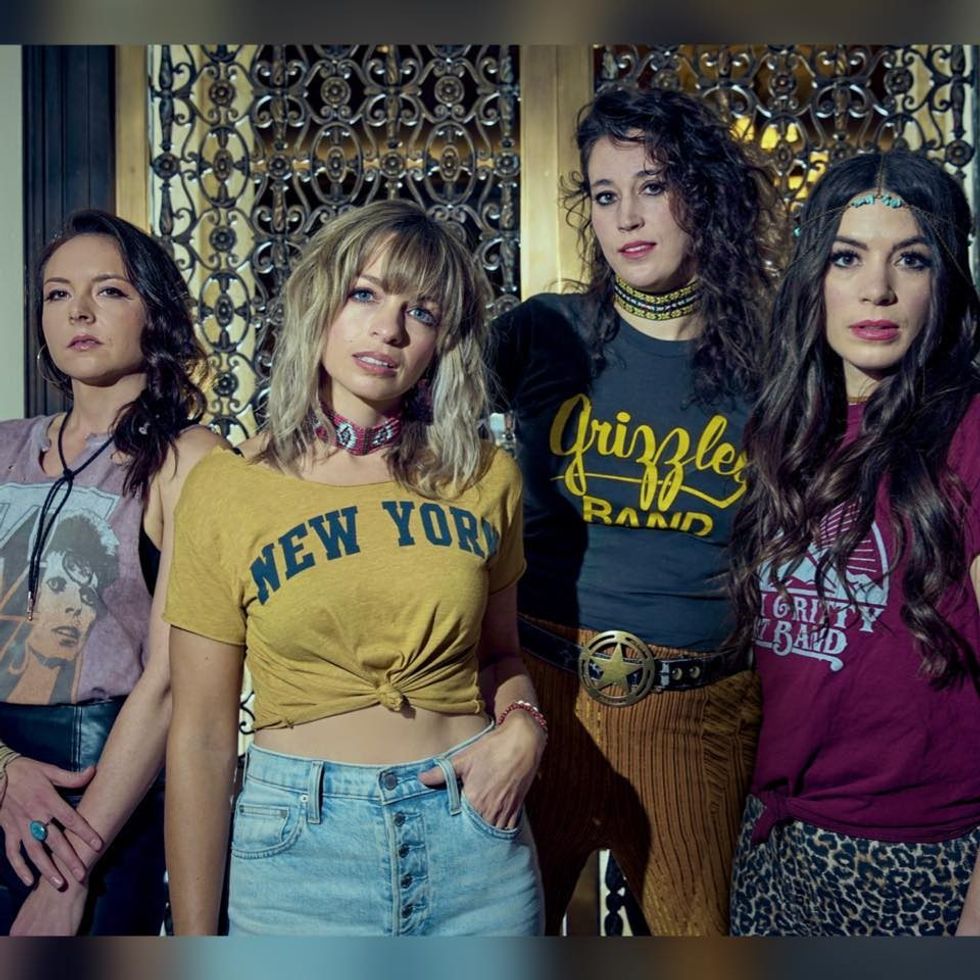 By Kerry Doole
Nice Horse, Ryan Lindsay, Tenille Townes, and The Prairie States were multiple winners at last night's 10th Annual Country Music Alberta Awards Show. The virtual event, co-hosted by singers George Canyon and Mariya Stokes, aired on the CMAB YouTube channel. In addition to watching awards being handed out in 22 categories and 11 inductions into the Country Music Alberta Hall of Fame, viewers were treated to performances by Nice Horse, Lindsay Ell, Gord Bamford, Clayton Bellamy, Ryan Lindsay, Michela Sheedy and Brandon Lorenzo.
---
Taking home Artist Awards were Nice Horse (with two), Mariya Stokes, Ryan Lindsay, Hannah Gazso, Aaron Goodvin, Tenille Townes, High Valley, Clayton Bellamy, Krissy Feniak, and Donny Lee. Song awards went to The Prairie States (with two), Nice Horse, Ryan Lindsay, and Tenille Townes. More details here. Below is the winner of Video of the Year.
– Northern Power Summit (NPS) returns with Gone Global on March 20, the third and final part of their three-part series that began in January. Earlier themes were mental health and Black excellence in February, and March's event will focus on artist growth with international opportunities at the forefront. There'll be conversations with producers and beat-makers, with East Coast hip-hop star Classified as the keynote speaker for March's session. Croatia's Phat Phillie and Niall Doorley of Barcelona's Future Music Forum will speak about breaking into the European market.  Gone Global will also feature expert industry sessions from Charlie Wall-Andrews, Garrett Van Dusen, Tone Mason, 4Korners, 80 Empire, DJ Greedo and more. It will run from 1-6 pm on March 20, with affordable registration rates. More info here
–Good news for the Beliebers out there. Justin Bieber has just announced that his sixth studio album – Justice - arrives March 19 via RBMG/Def Jam Recordings/UMC. It includes three recent smash hit singles, Holy feat. Chance The Rapper, Lonely feat. Benny Blanco, and Anyone. Together they have garnered over two billion streams worldwide and all three currently reside in the Top 40 on the Billboard Hot 100 songs chart.
– The next Indie Week webinar is on tomorrow (March 2, 4 pm EST). It features Gigi Johnson (Amplify Music) and Storm Gloor (University of Colorado Denver) sharing their insights on the 5 changes that have been transforming local music communities over the past year and describing the building of Amplify Music. Darryl Hurs (Indie Week/CD Baby) hosts. Register here
– On Friday, East Coast rocker Matt Mays released the triple vinyl version of his new live album, From Burnside With Love (other formats came out two weeks earlier). The record features material spanning Mays' long and acclaimed career. Here's a sample.
– Winnipeg house concert network Home Routes/Chemin Chez Nous will present the 2021 Winnipeg Crankie Festival  Mar 5-7,  on Facebook and YouTube. Designed as an interactive online festival, viewers will be able to engage with the music, art, and workshops. Donations are welcome here. Performers include Al Simmons, The Hiebert Family, Double The Trouble, Madeleine Roger, JD Edwards, and Coco Love Alcorn who'll present a Singing with Coco! workshop as a lead up to the fest. More info here
– Long recognised as a true folk classic, Gordon Lightfoot's 1966 hit Early Morning Rain has just been given a lovely makeover by Le Ren, Montreal-based musician Lauren Spear. Guesting on her version is Big Thief guitarist and solo artist Buck Meek.
– Nashville-based Canadian record producer, engineer and songwriter Joey Moi continues to make a major mark in Music City. As of Feb. 27, he has set a record for the most weeks spent at No. 1 on Billboard's Country Producers chart, as he records his 42nd week at the summit. He passes Dann Huff for the most time on top since the chart began in June 2019. Moi leads the list on the strength of 13 production credits on the latest Hot Country Songs chart. Twelve are for Morgan Wallen's Dangerous: The Double Album, which logs a sixth week at No. 1 on the Billboard 200. Source: Billboard
– Marc LaFrance, the veteran North Vancouver-baseddrummer, vocalist, producer, and songwriter is credited on over 100 albums by the likes of Alice Cooper, Cher, Mötley Crüe, Bon Jovi, The Cult, Chilliwack, Payolas, Loverboy, Trooper, Prism, Shari Ulrich, and Michael Bublé. In 1994, LaFrance produced his first solo record, Out of Nowhere, with Paul Dean, and launched it on his own label, Delinquent Records. Music from those sessions recently premiered digitally on the Marc LaFrance & Paul Dean - Blackstone EP. Last week, LaFrance released a new rock single, Angry, written and co-produced with Mick Dalla-Vee. Of note: We're told LaFrance is working on a memoir of his musical life.
Following the release of their celebrated album Renegade Breakdown last Sept., Marie Davidson & L'Œil Nu have announced the first in a series of remixes to be drawn from the project, from Jlin, Young Marco and Morgan Geist. Just released is a remix from Jlin (Bjork), who reworks  C'est parce que j'm'en fous. Davidson and her trio have a live-stream (shot by filmmaker Denis Côté) on March 11 via Noon Chorus. Tix here.
– A new study on equality in the US music industry showed that only 5 per cent of music producers in 2019 were women. An equally low percentage is believed to apply in Canada, To address the imbalance, the National Arts Centre last week announced its new Global Network for Female-Identifying Music Producers. The multiyear international program promises to give women on the recording side of the music business an opportunity to connect and help overcome institutional barriers. The participating Canadians are Toronto's Hill Kourkoutis, Montreal's Maïa Davies, Vancouver's Elisa Pangsaeng, Halifax's Erin Costelo, and Toronto's Denise De'ion. Partnering with the NAC on the program are Sounds Australia, Music Estonia, MTA Productions (Sweden) and producer liaison Belen Fasulis (Argentina).
– Grammy-winning Toronto-based alt-pop/R&B duo Locals Only Sound gained critical acclaim for its debut OPUS 1 tape. A recent single, Move With Me, has gained traction, and LOS was just named YouTube Canada's Trending Artist on the Rise. 
– Popular Toronto music club the Orbit Room was forced to close its doors last year when the pandemic hit. Owner Tim Notter is keen to move forward in a new location but is dealing with debts the club has rung up. A new GoFundMe campaign (here) is getting a positive response but could still use help.
–  Montreal sibling duo Just Costa (Juliana and Jesse Just Costa) pays homage to the hometown on 514, a self-produced single from the forthcoming Peachy EP.  
– Popular Maritime folk/roots outfit The East Pointers is taking advantage of the better pandemic situation there by booking two back-to-back shows at Charlottetown's Confederation Centre, March 12 and 13. More info here 
– Queer, non-binary, Indigenous pop singer/songwriter Angel Baribeau, based in Cree Nation of Mistissini, Quebec, has released a poignant new video for the track Wish We Were Older.