FYI
Music News Digest, Jan. 9, 2019
Today's column includes Mike "Beard Guy" Taylor (pictured) receiving a star-studded celebration of life, Canadian nominees in the International Folk Music Awards, and disquieting reports that Adele may well not be touring again. Others in the news: Music BC, Pickathon, Steve Strongman, Mr! Mouray, Mad Ones, Winterfolk Blues and Roots Festival, Tallies, NSCC, and farewells to Artie Irwin and Alan R. Pearlman. Videos added for your enjoyment.
Jan 09, 2019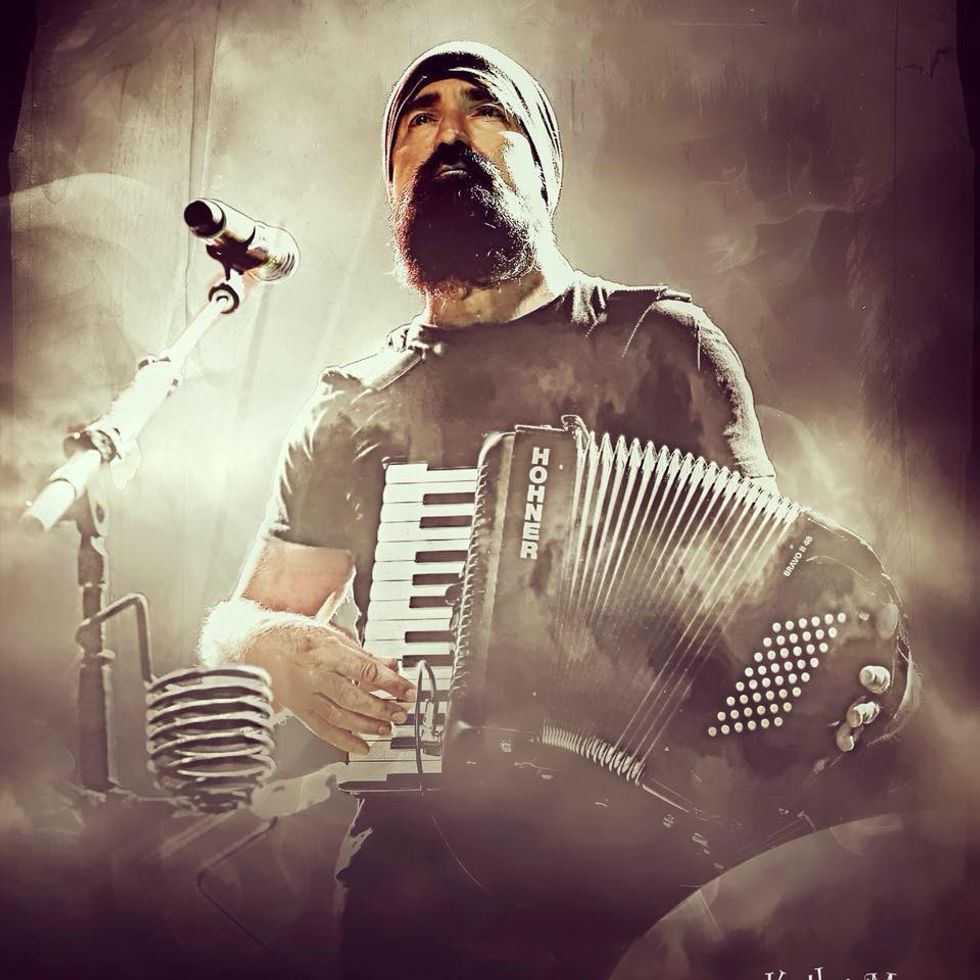 By Kerry Doole
Walk Off The Earth has announced a free Memorial & Tribute Concert for Mike "Beard Guy" Taylor, the group's keyboardist who passed away recently. Presented by The City of Burlington and Sound of Music Festival, the event will see family, friends and fans come together to celebrate Taylor's life and legacy on Sunday, Jan. 13 (from 4.30 PM) at Civic Square in Downtown Burlington. Fans are urged to bring a candle.
---
Special guests including Scott Helman, members of The Barenaked Ladies, USS, Monster Truck, and more will perform at the event, portions of which will be live-streamed on Walk Off The Earth's Facebook page. For those not able to attend, the band will continue paying tribute to Taylor during their 2019 world tour, saying, "Mike loved our fans so much. We want to honour him and his legacy by continuing our world tour to bring the spirit of this memorial to our fans across the globe."
– Voting for the International Folk Music Awards, honouring the best of 2018, is now open. The IFMAs are compiled from "Best of 2018" radio and print media lists from the US, Canada, the UK, EU, and Australia, in addition to the year-end NACC Folk and Folk DJ chart. Voting is open to Folk Alliance International members and closes on Jan. 17. More info here. Canadians figure prominently on the nominee list. Dust Dance by Tri-Continental is up for Album of The Year; The Good Lovelies are one of five finalists in the Song of the Year category, for "I See Gold", and both Jeremy Dutcher and William Prince make the Artist of the Year list. The winners will be announced at the International Folk Music Awards Show at FAI in Montreal on Feb. 13.
– The third Music BC Let's Hear It concert is on Jan. 24 at Vancouver's Fox Cabaret. The lineup comprises Giorgi Holiday, Diamond Cafe, and Harlequin Gold. Advance tix just $5.
– Speculation that pop superstar Adele will never tour again is fuelled by news that she has shut down the company she formed to collect her tour cash. The Sun reports that Adele has applied to have her gig business, Remedy Touring LLP, put into voluntary liquidation. The singer earlier told fans her most recent tour would be her last.
– On Feb 2, Toronto rockers Mad Ones host a benefit concert for humanitarian aid in Yemen at the Hard Luck Bar in Toronto. Also performing are HotKid, Beams, Catl, Jerry Leger, Regina Gently and Noah Mintz, and all proceeds will be donated to the International Rescue Committee. "We are hoping to raise a bunch money and bring awareness to a crisis which receives so little media coverage in North America," says Mad Ones' leader Andrew DeVillers. 
– Music BC is again partnering with Pickathon festival, held from August 2nd – 4th in Portland, Oregon. Music BC presents select BC artists on stage during the festival and is now accepting applications. Deadline is Jan. 31.
– Award-winning blues guitarist Steve Strongman is heading to the International Blues Challenge 2019 in Memphis (Jan. 22-26), representing the Grand River Blues Society. To help cover costs, he's playing a fundraiser show at The Casbah in Hamilton on Jan. 16.
 – Mr! Mouray is a Toronto band featuring veterans of such earlier outfits as MaDE, The Mahones, Moving Targetz, and Swindled. It debuted last year with the album Bats In Disguise, and returns with a new single, "Sunshine Supermarket," taken from upcoming EP Atlantic, out on Bullseye Records, the label run by member Jamie Vernon. Check it out here.
– Acoustic Harvest hosts a Winterfolk Blues and Roots Festival preview concert in Scarborough on Jan. 19 at St. Paul's United Church, 200 McIntosh St. The event showcases some of the artists who'll play Winterfolk in Toronto in February, with the lineup comprising Cassie and Maggie, Alana & Leigh Cline, Shake the Bellows, Donne Roberts, Ken Yoshioka, and Ori Dagan.
– Toronto shoegazers Tallies release a self-titled debut album on Friday, via Hand Drawn Dracula. The band celebrates with an album release show at Rough Trade in Brooklyn, NY today (Jan. 9), followed by other US club shows. Their SXSW debut is March, 1 and the Toronto record release show is at The Drake on Feb. 1.
– The NSCC Music Business Program class of 2019 is now accepting applications from developing artists in the Halifax area to work with student groups over the winter term.  During this project, students will work on developing and improving promotional materials for their chosen artists, applying for funding, developing marketing plans, promoting shows, increasing online presence, and more. Applications close Jan. 10. More info here
RIP
Artie Irwin, the Halifax jazz musician and photographer, passed away on Jan. 7, the Halifax Jazz Festival reports.
Known to generations for his jazz projects such as Ensemble Plus and the Artie Irwin Trio, he also performed with dozens of other groups, including the CBC Revolving Bandstand, Cliff Ledger Big Band, Erno Reti and his Continentals, Lloyd Peach Quintet, and more. In recent years, he successfully produced the Festival's Swing into the Holidays show
In 2018, Irwin received the Susan Hunter Award, presented by the Halifax Jazz Festival to recognize outstanding Leadership in the Arts
 
Alan R. Pearlman, engineer and founder of the pioneering synth manufacturer ARP Instruments, died on Jan. 6  at the age of 93.
Pearlman founded ARP Instruments, Inc.(originally Tonus, Inc.) in 1969, in the very early days of the synth industry. "ARP" was Pearlman's nickname, as a kid growing up in New York City
His father was a movie theatre projector designer, and his grandfather made parts for phonograph machines. Pearlman grew up building radio sets, inspired by Popular Science and Popular Mechanics magazines and served in the military briefly following World War II.
He later spent five years designing amplifiers for NASA's Gemini and Apollo programs. He co-founded analogue module and op-amp manufacturer Nexus Research Laboratory in Canton, Massachusetts, in the early '60s. Nexus Research Laboratory's business grew to have $4 million in annual sales before being acquired by Teledyne in 1966.[2][3]
In 1969, Pearlman founded ARP Instruments, Inc. with $100,000 of his own money and matching funds from a small group of investors. ARP entered the fledgling synthesizer industry with the introduction of the ARP 2002, which then became the 2500 analogue modular synthesizer.
The company's next synthesizer, and one of its most popular and commercially successful was the ARP 2600. The first units were manufactured in early 1971 in small quantities, but by the end of the year the 2600P model was in full production.  The 2600 was produced from 1971 until 1982, the year that ARP ceased to exist as a company. In the '70s and early '80s, everybody from Stevie Wonder and Elton John to David Bowie and Joy Division made the most of Pearlman's electronic offspring. 
Later, Pearlman advised Way Out Ware's Jim Heintz on the development of the TimewARP 2600 software re-creation of the ARP 2600. This is the only ARP 2600 software re-creation that Pearlman endorsed. Sources: Wikipedia, Reverb