FYI
Music News Digest, Dec. 3, 2020
Gordon Lightfoot announces a live-stream from the El Mocambo (pictured), Drake and The Weeknd excel on Spotify's 2020 chart, and The Washboard Union wins big at the BCCMAs. Also in the news are Cancer Bats, Arts & Crafts, David Bray, Michael Asante, IRIE festival, Breaking Down Racial Barriers, Perryn Leech, James Clark Institute, Bachman + Bachman, Songistry and MusicNL, Ron Sexsmith, FAOC, Carly Rae Jepsen, and Honeypaw.
Dec 02, 2020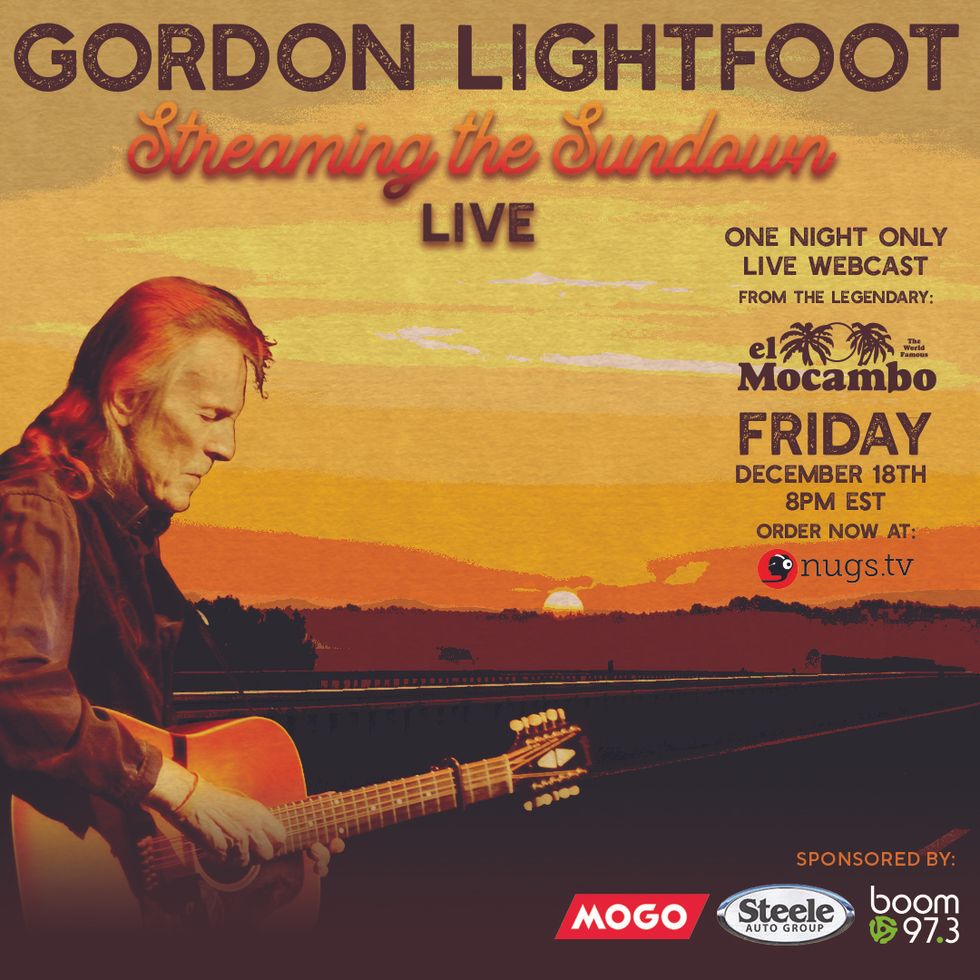 By Kerry Doole
Michael Wekerle's El Mocambo Productions has announced that the famed venue will welcome Gordon Lightfoot on Dec. 18 for his first-ever live-stream concert event, one specially produced for webcast audiences around the world. Sponsored by Mogo Inc., Steele Auto Group and boom 97.3, the event will be streamed live from the Elmo in downtown Toronto by Nugs.net at 8 pm ET. The full-production, full-band, 4k, five-camera shoot, will feature Lightfoot's well-known hits, some deep album cuts for the die-hard fans as well as a few surprises. The show is available in HD and 4K VIP, and 4K orders include a post-show VIP virtual meet and greet with Gordon Lightfoot.  Fans will have the opportunity to purchase the concert for 48 hours following the live event, for on-demand streaming, from the time they activate the stream. Order here  
---
– Country trio The Washboard Union won big at last night's BC Country Music Association Awards on Nov. 29, earning four trophies this year to lead all artists. The group won Entertainer of the Year, Album of the Year for Everbound, Group of the Year and Roots Artist of the Year, following up a strong showing at the 2020 Canadian Country Music Association Awards, when they took home three awards. Tyler Joe Miller won in three categories, including as SOCAN Songwriter of the Year. See the full list of winners here 
– Canadians fare well on Spotify's "2020 Wrapped" list of the world's top artists, albums, songs, and playlists.  Bad Bunny tops the list as the most-streamed artist of the year, with Drake in second place and The Weeknd in fifth. The most-streamed song of 2020 is The Weeknd's Blinding Lights with almost 1.6 billion streams, and his album After Hours was the second most-streamed, following Bad Bunny. 
– To complement the recent release of its Home for the Holidays compilation, Arts & Crafts is presenting its first-ever holiday live-stream concert via Side Door. The concert will feature many of the artists from the album, and other A&C favourites, performing from the comfort of their own homes to yours. The concert takes place on Dec. 13 at 3 pm EST (noon PST). Tickets are $12 and can be purchased here, with proceeds supporting the Daily Bread Food Bank in Toronto. Performers include Kevin Drew, Dan Mangan, Chris Murphy of Sloan, Lowell, Reuben and the Dark, Zeus, and many more.  
– SOCAN has appointed Michael Asante to the role of A&R Representative, Rap and R&B, a new position to address the rapidly growing part of the company's membership base. The appointment marks the end of a four-month search that saw more than 500 applicants for the role.  Asante's career before SOCAN has included founding  A&R Report Inc and positions at  Canopy Growth, G Adventures, and the Royal Conservatory of Music (Koerner Hall) in Toronto.
– Canadian artist, songwriter and producer David Bray has released a new neo-soul single, Overdue, featuring vocals by his long-time musical partner, Lorraine Reid. Coming in 2021 is Bray's third full-length album,  Land of Extremes. Produced alongside platinum-selling producer Chris Birkett, the album is the final installment in a specialized trilogy, following Night Rains (2016), and Crowded Isolation (2018). The latter received international critical acclaim following features across 100+ stations worldwide, and Bray's work has gained more than 200K streams.
– Hardcore faves Cancer Bats announce the release of You'll Never Break Us: Separation Sessions Vol. 1; a 6-song EP that features acoustic renditions of classic Cancer Bats tracks. The focus track, Deathsmarch To A New Acoustic Beat, features guest vocals from Ojibway singer-songwriter Nick Sherman. The EP will be released exclusively via the band's Bandcamp on Dec. 16, with all proceeds raised to be donated to Water First NGO, an org that helps to train interns in water purification in order to help their communities have access to clean drinking water.
– The 18th annual edition of the 2020 TD IRIE Music Festival has moved online for a virtual four-hour long celebration to be streamed on Twitch on Dec. 5 (6-10 pm EST). It will feature an all Canadian group of independent artists performing Reggae, Soca, and Afro-Bea. The lineup includes multiple Juno Award winners, Blessed, Chester Miller, Belinda Brady, Comfort, Jaxx, Dahlia and Mel Dube. DJs will include Carl Allen, and D'Enforcas and DJ Blackz. In addition to these performers, festival organizers will also present Live From The IRIE Archives, a curated selection of some of the best music and dance performances from past festivals. More info here 
– Breaking Down Racial Barriers was a recent 10-week panel discussion on anti-Black racism in Canadian Music & Entertainment. Facilitated by CIMA, these discussions were centred in the voices and lived experiences of over 60 working Black music professionals from the vast segments of music entertainment. The findings of the BDRB panels will be compiled in a final report to be shared with all peer & partner organizations and the wider community. On Dec. 8 (2 pm ET), in a CMW Virtual Voices panel discussion, BDRB creators/curators Ian Andre Espinet and David Click Cox speak with Karen Bliss (Billboard) on their interim findings, lessons learned and next steps on route to the final report, and a more inclusive Canadian music & entertainment industry. Register here
– Perryn Leech will be the Canadian Opera Company's next leader. A Briton who oversees the Houston Grand Opera, Leech will take the reins of the COC next March on a five-year contract. He will succeed Alexander Neef, who stepped down after 13 years as its general director and began responsibilities as the new head of the Paris Opera in Sept. Source: The Globe and Mail
– The James Clark Institute has just released a new single, Should I Tell Her, in advance of a forthcoming album, The Colour Of Happy. The song was produced by Moe Berg, a frequent collaborator with Clark, a singer/songwriter in the Elvis Costello/Ray Davies school.
– TD Toronto Jazz Festival has announced Bachman + Bachman, a specially curated performance by Canadian icon Randy Bachman and his son, Tal. Presented by Ontario Lottery and Gaming Corporation (OLG), the world premiere is on Dec. 17, 7 pm, on JAZZ.FM91 and streams simultaneously on Youtube and Facebook. In an intimate and acoustic setting, Randy will perform some of the jazz standards that helped to inspire his signature sound, as well as trading stories with Tal. Four local acts will round out the evening, and this performance will be rebroadcast. More info here  
– Songistry and MusicNL have announced that they have launched a strategic partnership. MusicNL now offers its members access to Songistry's MDIIO and MDIIO+ music AI platform, a move that helps them effortlessly register and copyright their music with Canadian Performance Rights Association, SOCAN, provide rights holders with licensing opportunities, and offer a platform for rights holders and licensors to negotiate terms. The MDIIO and MDIIO+ platforms use artificial intelligence (AI) and machine learning to assist the discovery of music for licensing purposes. 
– The Board of Directors of the Music Gallery, Toronto's Centre For Creative Music, has selected Sanjeet Takhar as the organization's new Artistic Director. Sanjeet succeeds David Dacks, who recently moved into the role of Executive Director. Takhar is a curator, producer, and writer based in Toronto. 
– On Dec. 5 at 8 pm ET, Ron Sexsmith performs live with members of the Niagara Symphony Orchestra from the FirstOntario Performing Arts Centre in his hometown of St. Catharines. The performance is a fundraiser for the Niagara Symphony and will be also be rebroadcast in the UK, Europe, Australia and Asia. Tickets here. 
– There are hundreds of new seasonal songs now making the rounds, but our vote for the most attention-grabbing title goes to Arab Ladies Sing Christmas Carols Written by Jews. The song comes from FAOC (pronounced FOWK - Friggin' Arab Orchestra Company), a duo project by noted Arab-Canadian artists Maryem Tollar and Roula Said of the group Al Qahwa. Check it out here. Look for a YouTube channel coming soon.
–Canadian pop sweetheart Carly Rae Jepsen has just released a video for her light-hearted new holiday song It's Not Christmas Till Somebody Cries. Guaranteed to induce a smile.
–Finnish-Canadian duo Honeypaw performs a live-streamed Facebook Live concert from Tartu College in Toronto on Dec. 4 (7 pm EST). Co-presented by Estonian Music Week, the event helps celebrate Tartu College's 50th anniversary and Finnish Independence Day. Event link here