FYI
The FYI News Bulletin: May 19, 2022
Serena Ryder wins one more accolade, a Platinum record. Standing here with her manager Sandy Pandya, MPC CEO Margaret McGuffin, and Music Canada CEO Patrick Rogers.
May 17, 2022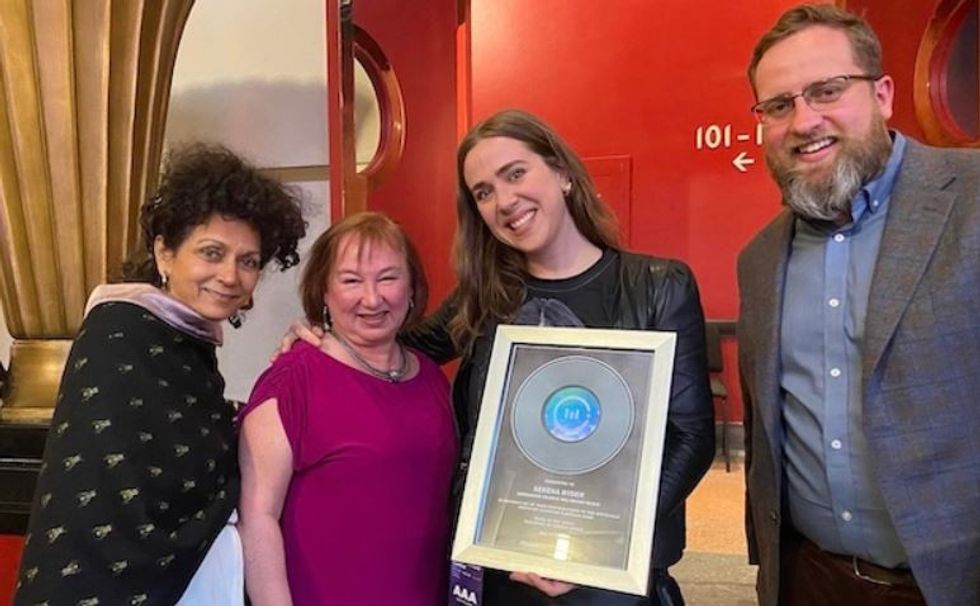 By David Farrell
– Music Publishers Canada (MPC) and Music Canada have jointly launched a Songwriting and Music Publishing award to celebrate songwriters' and music publishers' contributions to officially certified Canadian Gold and Platinum recordings. 
---
The first Platinum SMPA was given to Serena Ryder ahead of a performance at the Juno Songwriters' Circle in recognition of the songwriting on her hit song, Weak in the Knees (from the album, If Your Memory Serves You Well). The trophy was presented by ArtHaus Music and Music Publishers Canada. On May 14, Ryder earned her 7th Juno Award in the category of contemporary album of the year for her most recent release, The Art Of Falling Apart.
As well, Soran, and his music publisher, Éditorial Avenue, were recognized with a Gold Single in a virtual presentation for their contributions to Johnny Orlando's Everybody Wants You.
MPC members who hold publishing rights to songs contained in a Gold/Platinum-certified recording are eligible to order the new Award plaque for themselves, their sub-publishing partners, and the credited songwriters who they represent in Canada.
– After terminating what would have proven to be a financially disastrous lease on an east-end property just before Covid locked Toronto down two years ago, Hugh's Room's trustees are ready to trumpet a new lease a week today at 296 Broadview Ave., the site of a church built in 1896 that was designed by notable architect E.J. Lennox, whose standing landmarks include Old City Hall and Casa Loma. Julian Taylor will be the first to perform in the new location. Eric Andersen, who has been performing in the city since the Riverboat days, headlines on May 27.
– The annual Prism Prize—awarded to Canadian music videos for their outstanding artistry—has announced its top 10 finalists. The winner is to be announced and awarded a $20K grand prize on July 7 at a screening and awards presentation that is to be streamed live on the Prism Prize website as well as its Twitter and YouTube channels. You can view the 10 nominees' videos here.
– A benefit, and tribute, to raise funds for Big Rude Jake (born Jake Hiebert), his wife Anna-Lisa and his 7-year-old daughter Hope are set for June 9 at Lula Lounge. Jaymz Bee is organizing, and there is a serious lineup of musicians and vocalists who have stepped up to perform, with Vesuvius Music donating whatever sound costs are necessary. It's sad to report that this wildly talented singer–whose music combines New Orleans blues, jazz, funk, and R&B, is now hobbled with life-threatening cancer. If you can't make the show but would still like to help Jake and his family, consider a donation to the Go Fund Me initiative that has been set up. Reservations can be made online or by calling 416-588-0307.
– A memorial service for Peter (Darwin) Goddard, the former Toronto Star entertainment writer, weekend editor, author and friend to many in the music biz, will be held at 11 a.m., May 24 at St. Peter's Anglican Erindale. For those unable to attend, the service will be live-streamed (link) on YouTube.
–Tyson Parker, the powerful shadow behind Randy Lennox at UMC and Bell Media, has resurfaced at Westbank Corp., a Vancouver-based luxury development company owned by Ian Gillespie whose projects have transformed cityscapes around the globe and earned him a reputation as a sort of benevolent Howard Roark (our description, not his). Parker is installed in the newly created position of VP, Experiential Development, and his initial focus is on Toronto's Mirvish Village, a parcel of land that was once home to Honest Ed's department store. Owner David Mirvish anticipates that the high-fashion commercial and residential redevelopment will become a hub of creativity where the arts and commerce commingle. It's a mega project that promises significant benefit to a city that has been sullied by a sweep of residential high-rises that have proven to be as attractive as the grease bin behind a fast-food outlet. Parker can be reached at Westbank's Toronto office.
– SING!, The Toronto International Vocal Arts Festival returns with 11-days of events running May 26 through June 5.  The 11th annual kicks off with a freebie at Nathan Phillips Square. All in, the now internationally known a cappella festival includes 60 free and ticketed events with ducats scaled between $200 for an all-access pass to $50 that gets one access to all the virtual events, including workshops. Full details, headliners and schedule here.
Below is a clip of Cadence performing at the 2019 festival.
– Arts columnist and author Bob Mersereau has published another vital Canadian music history, this time focused on 50 prominent East Coast musicians, singers and songwriters with a foreword penned by Haligonian Joel Plaskett. Order a copy of The East Coast Music Book of Famehere and discover his earlier oeuvre here.
– Remember Jim Monaco, ace publicist at A&M Canada? He has continued handling publicity on a limited scale in the past few years, but he's also returned to his earlier career as a broadcaster. You can hear him on weekdays, 2-4 pm Atlantic time online at
CHRQ 106.9
Listuguj, Quebec, and on Sundays, he hosts a show sporting his fave music from the '50s, '60s and '70s.
Writing the column, James tells: "Back in the day, Hedley Jones and I were radio techs at the CBC on Jarvis St. We used to watch Glenn Gould come in to listen to playbacks of his shows in the studio. Fun! I also did traffic reports for the Ontario Motor League on CBC, CKEY and several other Toronto stations. Perhaps the best gig was weekends at CJRT where I was fired after playing all the instrumental sections from Days Of Future Passed following Sunday Night At the Opera."
– Randy Bachman, a man full of stories, many about himself, tells
Ultimate Classic Rock
that when in the UK with the Guess Who, the band pitched the Who on changing its name to avoid any possibility of confusion. Pete Townshend spun back, telling them there was none, and urged them to 'bugger off'. It's a story that might give Guess Who drummer Garry Peterson a chuckle next time he takes the
stage
as the lone original member of the Winnipeg band.
– Neill Dixon has played a big part in building a world-class music industry here with Canadian Music Week Radio and Music conference and festival. In his twenties, he had a cafe called Grumbles, frequented by the who's who of music; he managed Triumph and, with the late Steve Propas, founded Solid Gold Records with a rost that included gold and platinum-selling acts such as Toronto, Headpins, Chilliwack, and the Good Brothers. Below is his story, as told to broadcast and podcast host Tony Chapman and Stephanie Lupinacci.
– No names, but it appears that at least two notable Canadian indie imprints are receiving interest from outside sources. One has rebuffed at least one sizeable offer to sell its ever more sizeable catalogue of masters, and the other is considering going public. A third label is similarly considering its options as its ancillary businesses stand to generate more than its core business in selling records.
– Rob Reiner is reportedly working on the sequel to his rock mockumentary, This Is Spinal Tap, with original band members David St. Hubbins, Derek Smalls and Nigel Tufnel. It's pencilled for release in March 2024– 40 years following the release of the original cult hit.
– And on Netflix, the return of Mike Myers. Here's a clip from The Pentaverate.
–Pink Floyd's music catalogue is on the auction block. Complete Music reports that UK-based One Media iP Group has formally offered to buy a 1% stake in the offering for £3.5 million–a sum calculated on the initial asking price of £350M (C$554.095M).
– A Consultancy firm Music Tomorrow study has found over the past four years that major labels accounted for nearly 70 percent of the music featured in the 'New Music Friday' Spotify playlist; of that number, 30 percent was UMG contents, while 19 percent was for Warner and Sony respectively. Ashley King at Digital Music News digs into what some might view as a pattern of abuse.