FYI
The FYI Bulletin: March 23, 2023
MusicOntario and Artists' Legal Advice Services (
Mar 23, 2023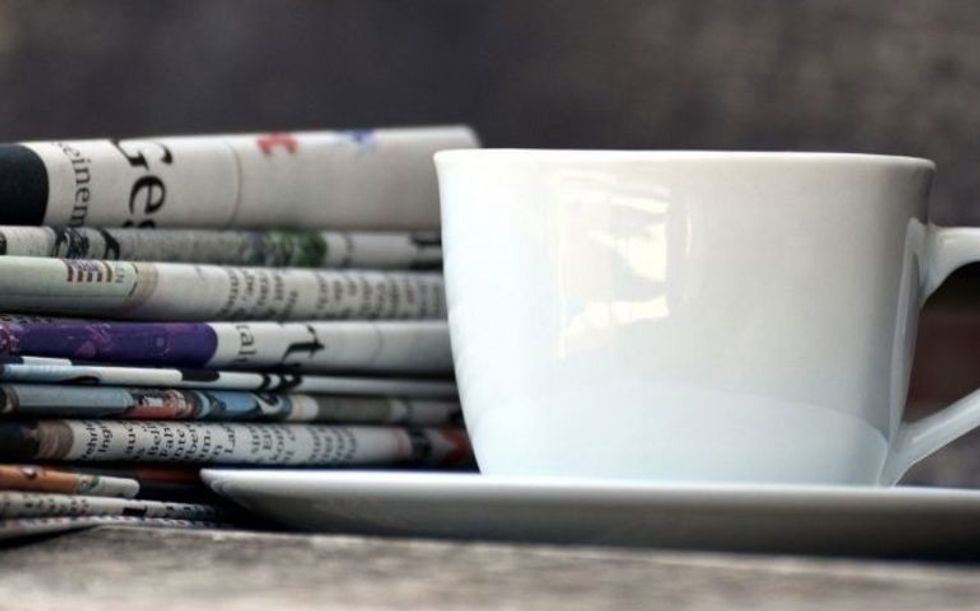 By David Farrell
MusicOntario and Artists' Legal Advice Services (ALAS), in partnership with the National Network of Legal Clinics for the Arts, host a legal Q&A session with lawyers Paul Sanderson and Salman Rana, today (Thursday), March 23rd, from 2-3 pm EST. Register here.
---
–Nettwerk Music Group has announced it is the recipient of a major new investment through a strategic Flexpoint Asset Opportunity Fund II. Additionally, Nettwerk's existing financial backers, Beedie Capital and Vistara Growth, also participated in the investment round and will remain shareholders with representation on the company's board of directors. – Celebrity Access
– Submissions are now open for the 2023 Jim Beam National Talent Search presented by Canadian Music Week. Artists and bands of any genre from coast to coast to coast are invited to apply online until April 7. More details and how to register, here.
– Handsome Boy Jeff Rogers is now advising bilingual SK pop singer Velours who has won notice at CMW, the SK Music WCMA Awards. Below is the title track from her debut EP released in 2022.
– Named for MDM Recordings Inc. president and founder Mike Denney's grandfather Lloyd Henry and mother Gloria Denney (née Armstrong), both fellow Six Nations Lower Mohawk, the second annual Henry Armstrong Award, a bursary and mentorship program for  Canada's Indigenous music community, is set to open on March 28. The winner is to receive a $10K bursary and professional mentorship. For more information and eligibility requirements visit the HAA website.
–Windsor's Billy Raffoul has a new EP due out on Friday (24th), entitled Wish You Were Here. His debut album A Few More Hours at YYZ'I was released in 2020 spawning two hit singles: Acoustic, which has generated over 65M Spotify streams, and Easy Tiger which surpasses 21M Spotify streams. A year later he won the SOCAN Songwriting Prize for the single Western Skies. Nettwerk Music Group has the signing.
– Susan Aglukark keynotes the first Arctic Music Conference & Awards, a virtual 2-day event. Details here.
– Montreal folk-roots singer-songwriter Jason Lang is stepping outside of his native Quebec to promote songs included on his recently released Handled With Care album, which itself serves as a tribute to his late mother, Penny, who was once described as a "doyenne" of the city's folk music scene (more here and here).  Here's a song from that album.
– '70s heartthrob Lisa Hartt has remerged with a new single, the second from an upcoming EP release. You can listen here.
– NY rapper A Boogie Wit Da Hoodie has an eight-city Canadian tour starting at Vancouver's Thunderbird Sports Centre on June 10. Other venues include the Edmonton Convention Centre and Laval's Place Bell.
–Vancouver's Caleb Chan and Brian Chan have been nominated for a 2023 Canadian Screen Award for best original music in animation. for DreamWorks projects Team Zenko Go and Pinecone and Pony, which aired on Netflix and Apple TV+, respectively.
– Earlier this month, Bryan Adams returned to Manila to perform at the 16,500-capacity Araneta Coliseum with Philstar Global's Jan Milo Severo waxing: "At 63 years old, Bryan sounds like the concert tour was still in the 1990s with his supreme voice perfect for rock and ballad songs." He's set to open ON's Pickering's Casino Resort on April 26 with Ticketmaster posting the cost of 2 ducats at between $214 and $784. Other dates include a June 9 show at NYC's Madison Square Garden.
And here is a clip from London's Royal Albert Hall last year…
– The Nelson Star's Peter McCully recently did a podcast with Bill Henderson who talks about a career that spans the late '60s and The Collectors through Chilliwack's heyday in the '70s and '80s to today as a solo artist and his work with Shari Ulrich and Roy Forbes in the trio billed as UHF. Because I have enormous respect for Henderson and have forever been a fan since my days as a hippy on Canada's west coast …
– From the ever deliciously scandalous Pop Bitch newsletter: "Stanford University (UK) is offering a new course for Winter 2023 that will spend ten weeks examining a single Taylor Swift song: All Too Well (Ten Minute Version)."
And again from the UK scandal sheet: When asked on the red carpet what songs he likes to sing in the shower, Andrew Lloyd Webber looked totally baffled; like he couldn't even grasp the concept. "Sing? In the shower?" he replied. "But I don't have showers. Ever. I hate them! They're dirty!"
– $45US gets you a ticket to see The Guess Who at St. Petersburg Mahaffey Theater outside Tampa this Saturday. Drummer Garry Peterson is the lone original member from the legendary Winnipeg band that earned its first hit single in 1965 with Shakin' All Over, a song originally performed by Johnny Kidd and the Pirates, it went on to become a No. 1 hit in Canada when Quality Records released it by a group dubbed Guess Who, and reissued in the US where it peaked at No. 22 with the same ensemble now calling themselves The Guess Who. Below, is a singularly unexceptional version of the same, performed by the ineffaceable Mae West.
– After a 10-year hiatus Crash Test Dummies alumni have remotely recorded "a brand new, awe-inspiring, philosophy-filled ballad that exudes the classic Crash Test Dummies sound," entitled Sacred Alphabet. Further from the song release preamble: "the song highlights the unmistakable voice of Brad Roberts and choral harmonies of Ellen Reid. Backed by a simple piano melody where Roberts both delicately and hauntingly describes an untainted world before existence, "Sacred Alphabet" slowly grows to feature a stirring yet sparse drum beat, longing cello performance and affecting atmospheric sounds that blend together to colour the song into an awe-inspiring ballad. Drawing inspiration from the idea of why there is something and not nothing, Roberts' turned to a passage from 18th-century writer Alexander Pope, whose line "'Tis not enough no harshness gives offense, the sound must seem an echo to the sense" inspired the lyric, "No subject, object, verb or tense; sound had not been enslaved to sense."  The band continues to tour and can be found in various points in the US NE in May. And, without further ado…
– Vancouver electro duo Young Bombs (Tristan Norton and Martin Kottmeier) who earned initial fame working on remixes for notables such as The Chainsmokers, Lady Gaga and Billie Eilish, has Sony Canada backing on Bombs, the duo's latest banger.
– A troubling note on gender equality in the music biz is sounded out by US-based Hits Daily Double. Quoting from a recent editorial: "In the wake of #MeToo, several female execs have expressed to us, the situation has only become more fraught, with male circles getting tighter for fear of some kind of "incident" rather than becoming more inclusive. "It's worse than it's ever been," despairs one highly placed player, who refers to the "Pence effect" (men fearing the repercussions of being alone with women) and believes the backlash after #MeToo has actually limited opportunities for women professionals. "In certain meetings, I can see them looking at me and thinking, 'I wish she weren't in here,'" she says."
– Maybe a good idea at inception but questionable in delivery, some of Nashville's best have colluded to record Stoned Cold Country, a tribute album celebrating the Rolling Stones' 60th anniversary. You can sample the collection here.
– Loreena McKennitt, CM OM CD, has announced a 30-city North American tour themed around her 1971 album The Visit that earned her platinum and gold status in Canada and the US respectively. Cumulatively she has sold in excess of 14 million albums worldwide. The tour opens at Goderich, ON's Celtic Roots Festival on Aug. 12. Travelling with her is an ensemble of notables including Brian Hughes on guitar, Caroline Lavelle on cello, Hugh Marsh on violin and Dudley Phillips on bass. She was recently inducted into Canada's Songwriters Hall of Fame.