FYI
Five Questions With… The Lay Awakes
This Brooklyn-based Canadian husband and wife indie-pop duo comprises two athletes turned musicians. A new album, Home Away From Home, comes out on Friday and here they discuss both its creation and the origins of their partnership.
May 02, 2018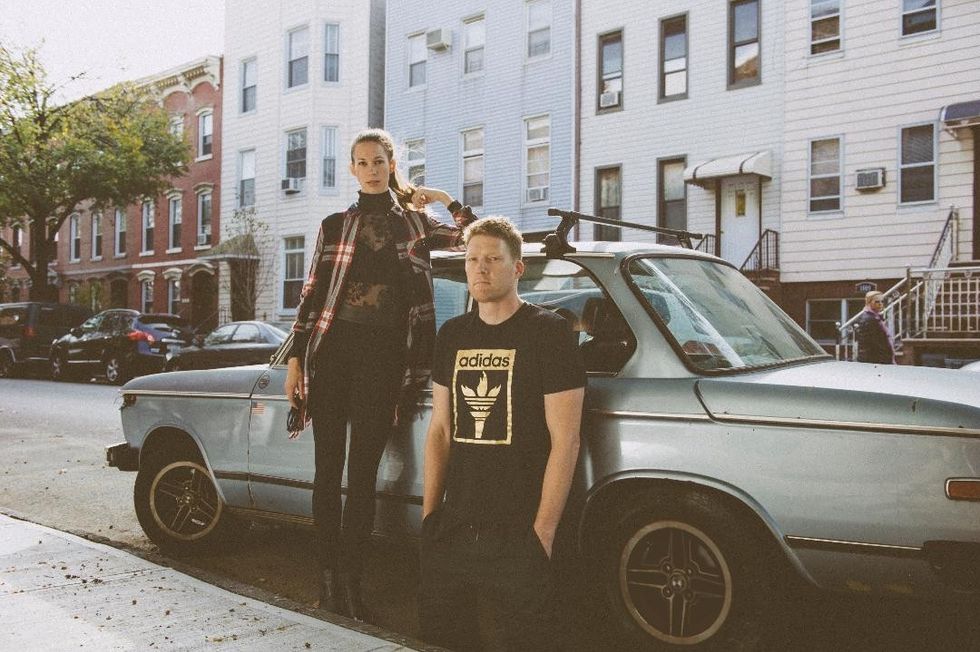 By Jason Schneider
The Lay Awakes is a Canadian husband and wife indie-pop duo based in Brooklyn, New York with a story as remarkable as it is unique. Patrick Anderson, born in Edmonton and raised in Fergus, Ontario, is largely considered to be the best wheelchair basketball player in the world and one of the greatest to have ever played the game. He is a member of Canada's National Wheelchair Basketball Team and has won World Championship and multiple Paralympic Gold Medals.
---
Anna Paddock went to university on a volleyball scholarship and was offered a professional contract in Germany, but turned it down to pursue further musical studies. Her father, John Paddock, played hockey for three different NHL teams and coached for nearly a decade in the NHL with the Winnipeg Jets, Ottawa Senators and Philadelphia Flyers. His career as a pro player and coach meant a lot of moving for Anna.
Together, Anna and Patrick are a bona fide athletic power couple, but in recent years they have become so much more. Music had been a fundamental part of their lives before they met, but it wasn't until years later that they formed The Lay Awakes, releasing their first EP together in the summer of 2015.
They are set to follow it up with a new album entitled Home Away From Home, which will be available May 4 on iTunes, and for more info go to thelayawakes.com.
How did you meet and what made you decide to make music together?
Anna: We met through my assistant volleyball coach from university. We were both at his wedding—I was playing piano for the ceremony, and Patrick was the best man and the leader of the band for the party. We didn't decide to make music together until five years later. Love before play! Plus, we came from differing musical backgrounds and styles, and so it wasn't the most natural fit to begin with.
What was the writing and recording process like for Home Away From Home?
Anna: Our good friend Jeremy McDonald produced the record and brought in most of the session musicians. Home Away From Home was primarily recorded at Mason Jar Music in Brooklyn, NY, but we tracked the piano at a different location, and some vocals were done at home in our hallway. The writing of this record was done over the past few years. We generally write alone and then edit each other's work. We are really happy with how this record came out, and how our collective sound is emerging.  
What songs on the record are you particularly proud of?
Patrick: I really like "Babe Are You Sure."  It just sounds like Anna through and through—the song and the voice. The day I wrote [first single] "Falling In Love," I was on my way out the door to catch a plane to go see about a girl in New York. Almost 10 years later, I'm pretty proud of how that turned out.
What do you recall about your first time performing in public?
Anna: The first time we performed as The Lay Awakes was a VIA Rail Artists On Board residency from Toronto to Vancouver. It was the perfect, intimate setting to try out our "band name" and perform a few times a day. We still keep in touch with people we met on that trip. Before being The Lay Awakes, we performed as The Anna Paddock Band, and Patrick played bass for my songs. It became clear that he was more than a sideman!
How do you find a balance between your musical and athletic pursuits?
Patrick: I don't know that I always do, but when it's going well, I find that playing music helps me get away from basketball and vice versa. It limits the amount of time for navel-gazing. I think it makes me better, but ask me again after Worlds this summer and I'll tell you how smooth or broken my jump shot was.