FYI
A Family Curse: Cemetery Blues
A father and daughter duo delivers cool gothic Americana.
Jun 07, 2022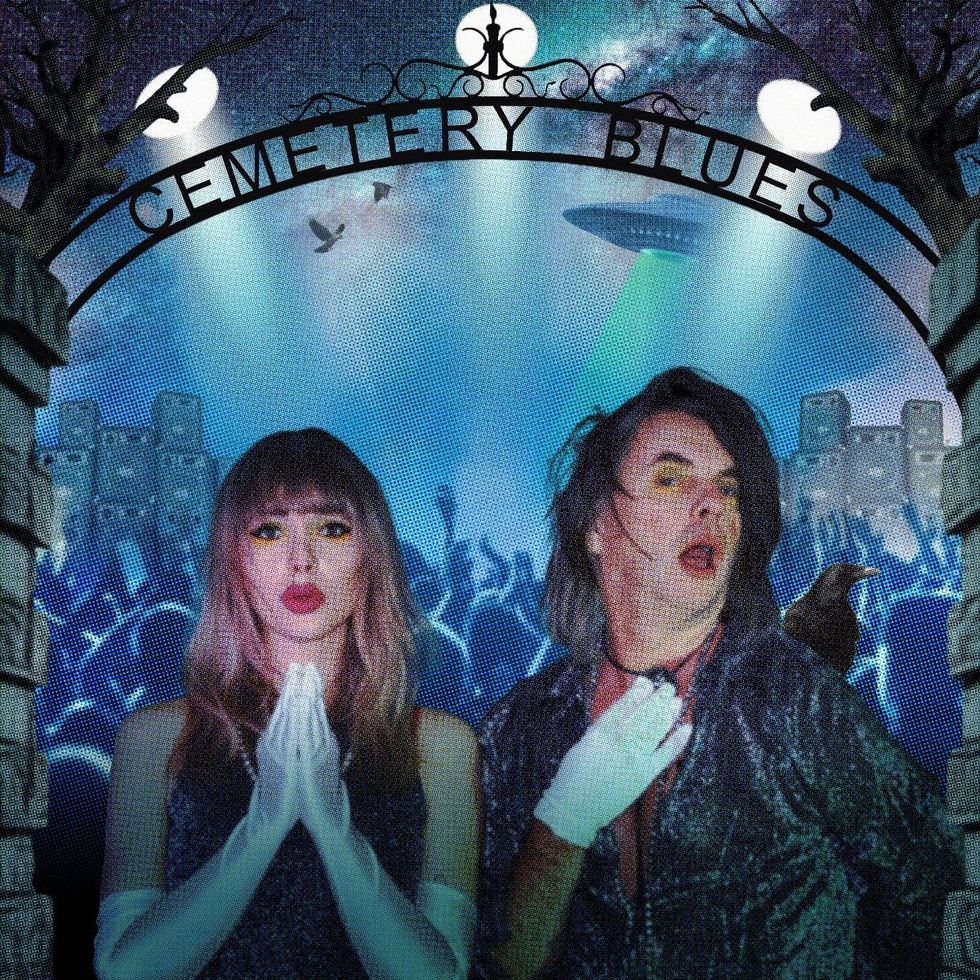 By Kerry Doole
A Family Curse - Cemetery Blues (El Mocambo Records): Guess you could term this comparatively new project something of a Canadian super duo, given that it is headed by veteran 54-40 frontman Neil Osborne and his daughter, Kandle Osborne. Operating as Kandle, she is an alt-rock singer/songwriter with a string of acclaimed albums under her belt (her debut full-length, In Flames, gained a Juno nomination and won a Prism Prize Award).
---
Neil and Kandle have collaborated musically before, but A Family Curse steps that up a notch. A press bio notes that "The A Family Curse collaboration began a few years ago when Neil and fellow songwriter, Danny Michel, recorded some song ideas together with melody and lyrics from Kandle. Due to their busy schedules, the songs were left to collect dust until Neil rediscovered the tracks with newfound inspiration. He shared them again, along with some new ones, with Kandle, who then immediately finalized the lyrics and brought more focus to the project. . From there, Kandle and Neil decided to complete a whole DIY album where the two played and recorded everything at home."
The result is a self-titled album being prepped for release on July 27, with its first single, Cemetery Blues, out now. Neil Osborne describes the creation of the track here: "I gave Kiz (Kandle) a nice chord progression with just three major chords. Just three. C, G and F,. Cousin Danny (Michel) and I whipped up a drum - bass - piano and guitar track. I told Kiz – 'now sing something nice, you know, happy like' - and she comes up with Cemetery Blues."
The lyrics are hardly cheerful - "You left me here abashed and all alone,  Now who's gonna bury me, Who will be at the cemetery" - but the gothic Americana vibe of the song is compelling. Kandle has a strong and evocative vocal style - think Mazzy Star's Hope Sandoval on steroids - while papa delivers the goods musically.
Kandle describes A Family Curse's overall sound this way: "Diving into a fantasy world of Americana and fuzz driven blues-rock, this father-daughter duo take you on a journey from robbing banks to getting stranded in the desert and catching fire!" We are keen to hear more.
In addition to the single, the band has also announced a string of Canadian dates, kicking off June 10 in Toronto with a CMW showcase at the El Mocambo, followed by a Dakota Tavern show on June 14, and continuing to Fenelon Falls, Owen Sound, and Blue Mountains, with more dates TBA. 
Publicity: Sam Rashid, Indoor Recess
Management: Allen Moy, Divine Industries