FYI
Backxwash Wins Polaris Music Prize
Eclectic metal-infused hip-hop artist Backxwash won the 2020 Polaris Music Prize Monday evening for her album, God Has Nothing To Do With This Leave Him Out Of It.
Oct 20, 2020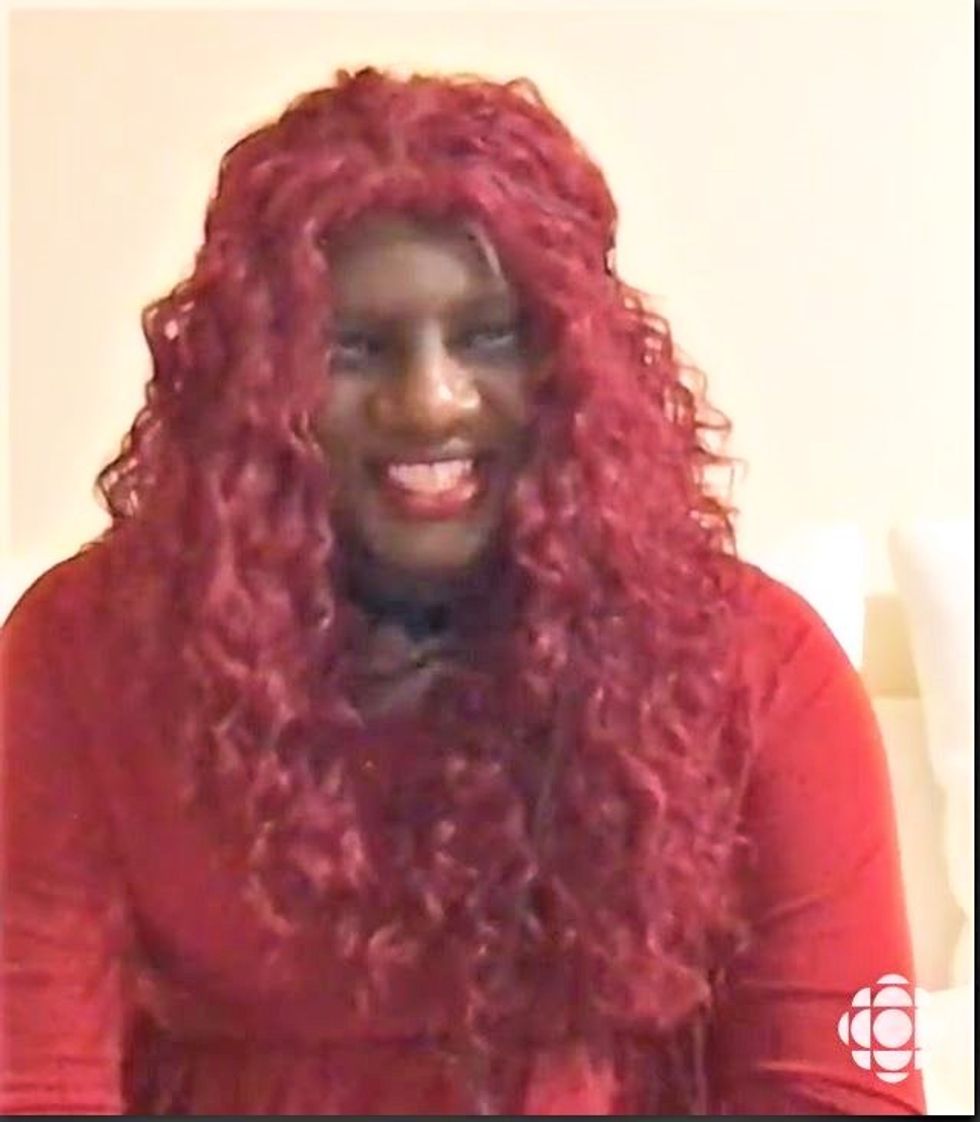 By Karen Bliss
A grand jury of 11 determined eclectic metal-infused hip-hop artist Backxwash was the winner at the 2020 Polaris Music Prize Monday evening for her album, God Has Nothing To Do With This Leave Him Out Of It, The audience-less event was held in its usual location, at the Carlu in Toronto.
---
The announcement was made by 2019's winner Haviah Mighty, from the Carlu stage, at the end of a one-hour live-streamed show on CBC Music platforms, that showcased all 10 short-listed nominees with individual vignettes of biographical info, critic's praise and a short art film.
"I don't believe it. It's trippy. It's awesome," said Backxwash, on the post-show Zoom press conference, her laugh as big as her presence and sound.  "It's symbolic because this is the most of myself that I've been, ever since I've been living on this earth and it's just incredible. I think it's just symbolic of the world just telling me to be myself."
The Zambian-born Montreal-based trans artist, whose name is Ashanti Mutinta, said she will "probably" put the $50,000 prize money "back into a record because I want to release another record next year."
The nine runners up — Caribou's Suddenly; Junia-T's Studio Monk; Kaytranada's Bubba; nêhiyawak's nipiy; Pantayo's self-titled album, Pimienta's Miss Colombia; Jessie Reyez' Before Love Came To Kill Us; U.S. Girls' Heavy Light; and Witch Prophet's DNA Activation — will each receive $3,000 from Slaight Music.
Just before the show began, the grand jury deliberated and voted on their picks via Zoom to determine the winner.  Under normal circumstances — when there isn't a pandemic interfering with public gatherings — the jury is behind closed doors at the Carlu, while the private industry audience enjoys the show.
The albums are judged solely on artistic merit, without consideration of genre, record sales or professional affiliation.
After taking the awards virtual, the Polaris staff decided that instead of the usual live performances from the nominees, they would put out a call to Canadian filmmakers to create commissioned shorts inspired by each of the nominated albums.  The result was a diverse, informative and multi-cultural show that highlighted the talents of visual artists too.
The 10 titles were selected from the 40 longlist that included The Weeknd, Daniel Caesar, Allie X, dvsn, Sarah Harmer and Joel Plaskett. That initial list was determined by a jury of selected music media (201 voters this year), who submitted their top 5 picks from 223 recommended albums. For the shortlist, the same jurors picked their top 5 from the 40, which was calculated for the 10-title shortlist. The official eligibility period for the titles is from May 1, 2019, to May 31, 2020. 
This is also the first year of the Polaris Music Prize without its founder, Steve Jordan, at the helm. Earlier this year he took a job as senior director of CBC Music, leaving Claire Dagenais, who started as his first employee in 2010, as its new executive director.
Past winners of the Prize are Haviah Mighty (2019), Jeremy Dutcher (2018), Lido Pimienta (2017), Kaytranada (2016), Buffy Sainte-Marie (2015), Tanya Tagaq (2014), Godspeed You! Black Emperor (2013), Feist (2012), Arcade Fire (2011), Karkwa (2010), Fucked Up (2009), Caribou (2008), Patrick Watson (2007) and Final Fantasy / Owen Pallett (2006).
During the show, the 12 nominees for the Slaight Family Polaris Heritage Prize were also announced, recognizing albums of artistic merit made before Polaris ever existed. Those albums are  Robert Charlebois & Louise Forestier's Lindberg; Deborah Cox's One Wish; Beverly Glenn-Copeland's Keyboard Fantasies; Great Speckled Bird's self-titled album; Jean Leloup - Le Dôme; Maestro Fresh-Wes' Symphony In Effect; Main Source's Breaking Atoms; Jackie Mittoo's Wishbone; Pagliaro's self-titled album; Buffy Sainte-Marie's It's My Way!; Jackie Shane's Live!; and Thrush Hermit's Clayton Park. The public can vote (here)  once per day until the polls close Nov. 9 at 8 p.m. ET / 5 p.m. PT.