FYI
August Is Hot With Live Music In the Maritimes, Ken Kelley Reports
As Canadians from coast to coast anxiously await the return of concert venues, music fans in the Maritimes are enthusiastically embracing smaller scale events across the region.
Aug 03, 2021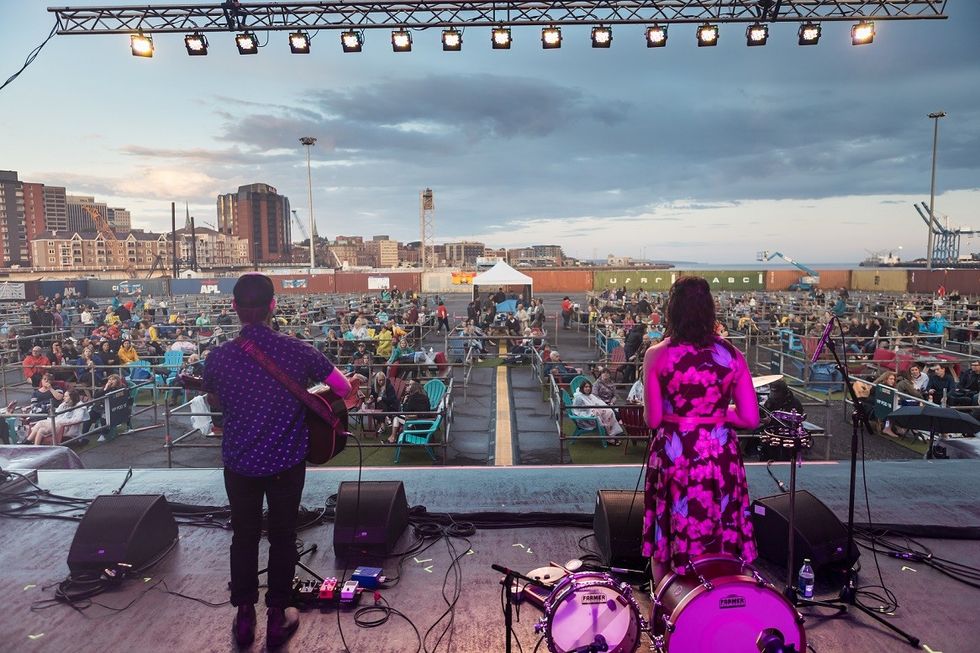 By Ken Kelley
As Canadians from coast to coast anxiously await the return of concert venues, music fans in the Maritimes are enthusiastically embracing smaller scale events across the region.
---
On Prince Edward Island, the team behind the award-winning Cavendish Beach Music Festival will launch the Road Back to Cavendish concert series on August 27 and 28, featuring performances from Gord Bamford, Tim Hicks and others.
Meanwhile, across the Northumberland Strait in New Brunswick, Saint John's Area 506 launched a weekend concert series on July 16 that is slated to wrap up on August 14. This year's offering is a largely regional lineup of music and comedy, including Matt Mays, Jimmy Rankin, comedian James Mullinger and others.
And in Nova Scotia, Halifax-based concert promoter Sonic Concerts is bringing Bahamas, Matt Andersen, Alan Doyle and others to a dinner and concert series in Wolfville, approximately 90 kilometres northwest of Halifax.
While this year's festival is a far cry from the typical atmosphere that would greet concert goers, Area 506 President Ray Gracewood says this year's setup, complete with socially distanced pods of up to 10 people and an app for ordering drinks and food, was a necessary pivot to ensure they could make the best of the requirements the Covid pandemic has necessitated.
"We spent the better part of the last year figuring out how to make the best of whatever situation we would find ourselves in this summer," he said. "And regulatory requirements aside, we also knew people would be all over the spectrum in terms of their comfort level. For every person banging on the doors to get in, we also knew there would be some that were going to be a little more tentative about attending a public event. At the end of the day, it's important we make everyone feel as comfortable and confident as possible."
Thus far, the festival has struck a winning chord with concert goers. Gracewood says six of the 10 Area 506 shows sold out on the first day of ticket sales, showing the demand for live entertainment was being enthusiastically embraced following 18 months of relative uncertainty.
Asked how the company envisions the concert landscape unfolding over the next 18 to 24 months, Sonic Concerts' spokesperson Erin McGuire says the pandemic has shown them to expect the unexpected.
"I'm not sure if we want to get in the business of making any predictions," she says. "It has always been an industry where you've had to be ready to roll with the punches, but perhaps now more than ever."
McGuire says while Sonic is looking forward to the future when capacity limits and social distancing restrictions are no longer a factor, the company still has to remain vigilant of safety measures, as well as peoples' comfort levels, and any government guidelines that may be in place in the interim.
"We've been intentional in our increased communications with ticket holders about event regulations and requirements, and expect that to continue until things stabilize. As we've seen with restrictions varying between provinces throughout the pandemic, consistency may be difficult to achieve, so communication will be key to getting back to 'normal' as smoothly as possible. All signs point to fans wanting live music back in a big way, so we'll adapt as needed to ensure we can do it safely."
At the present time, Live Nation has two tours scheduled for Atlantic Canada before the year is out. The double bill of James Taylor and Bonnie Raitt plays three dates throughout the region in September, while Halifax has dibs on Judas Priest at the start of November.
But notably, a number of prominent Canadian tours thus far have no confirmed dates for the Atlantic region. The Saints & Sinners tour, the highly-anticipated rock show featuring the Tea Party, Headstones, Sloan and Moist, has no dates scheduled for the Maritimes, despite the original pre-Covid trek having been slated to touch down in both Moncton and Halifax.
Looking forward to 2022, neither The Beaches' or The Glorious Sons' respective Canadian tours include a stop in the Maritimes so far. But of course, as we've seen over the last 18 months, much can change in a relatively short span of time. To that effect, McGuire remains cautiously optimistic about what the future holds.
"There have never been more artists looking to get on the road," she says. "Some tours from 2020 that were rescheduled are still on the calendar, artists who continued releasing material throughout the pandemic and are ready to promote it on the road, and there's always more ready to roll out, so we expect dates to fill up quickly. The issue is likely going to be more artist interest than venue availability, which is an ongoing issue in the region. The majority of our business is supporting Canadian talent and we expect that to be a priority as things ramp up. We're staying positive about what's to come!"